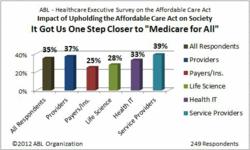 35% of the total selected, "It got us one step closer to 'Medicare for All,'" as the most likely outcome
Santa Ana, CA (PRWEB) August 16, 2012
The U.S. Supreme Court's upholding of the Affordable Care Act, "Got us one step closer to 'Medicare for All,'" according to the plurality of 249 California-based healthcare executives surveyed following the high court's decision.
The survey, conducted in July by the Adaptive Business Leaders (ABL) Organization, a high-level networking and peer-advisory group for healthcare executives, posed questions to CEOs, Presidents, and Division GMs, who represent a range of sectors within the healthcare industry. The respondents identified their organizations as healthcare providers (44%), life science (21%), service providers (16%), health information technology (10%), and payers/insurance-related companies (9%). Some of the responses submitted by providers (such as hospitals, medical groups, home health, and ancillary providers) were in stark contrast to those provided by the life science industry (medical device and biotechnology/ pharmaceutical companies).
In the ABL survey, when asked "What impact do you think upholding the Affordable Care Act will have on Society in general (including the American tax payer)?," the 249 respondents could select multiple responses among the six options presented, plus "other." Of the options, 35% of the total (and 37% of the providers surveyed) selected, "It got us one step closer to 'Medicare for All,'" as the most likely outcome.
"Senator Bernie Sanders of Vermont and the National Nurses Union have made 'Medicare for All' a catchphrase for a single-payer system," noted Mimi Grant, president of the ABL Organization. For many, the Affordable Care Act is a good start, but doesn't go far enough, as they believe it still leaves some 27 million people without health coverage."
Other responses were very supportive of the Court's decision, as 31% of the total respondents selected, "It was a great thing, regardless of what it does to our tax structure." However, only 19% of the life scientists agreed with this statement.
Yet others were less enthusiastic: with 22% of all respondents, and 32% of the life scientists selecting, "It was a terrible decision, our healthcare expenditures are going to be out of control," and another 20% overall, and 34% of the life scientists, selecting "It was a terrible decision, our taxes are going to be out of control." And yet another 15% of all the respondents - and 24% of the providers - agreed with the statement, "It was a great thing, but I'm concerned about what it will do to our tax structure."
Finally, 17% of all the respondents anticipate, "Some of the aspects of the ACA will be good, others bad; so on average: it will have a neutral impact."
The ABL survey was distributed in response to the Supreme Court's upholding of most of the planks of the Affordable Care Act (ACA), in an effort to learn the impact the ACA has already had – and is anticipated to have – on the healthcare industry. In addition to the ACA's anticipated impact on American society in general, the survey addressed specific trends anticipated within the healthcare industry, such as: greater opportunities for growth; more consolidation; greater transparency – particularly in pricing and outcomes; value-pricing and cost-cutting; and more opportunities for partnering. The entire survey and its results are available by contacting laura@abl.org; the first press release in this series is available here, and the second release is available here.
About the Adaptive Business Leaders Organization:
The ABL Organization supports its Member CEOs by facilitating confidential Round Tables for Healthcare and Technology executives, where they can draw on the experience, knowledge and skill sets of their peers, in a confidential, personal advisory board setting. The core component of the CEO Membership experience is the monthly, half-day Round Table, where Members meet with a group of their industry peers - CEOs, Presidents, COOs and Division GMs - from non-competing companies. During each session, Members share their best practices as they tackle topics like: "Resilient Management: How Healthcare Organizations Can Remain Positive in the Face of Challenge & Change," "Creating a Culture of Accountability," "Lessons Learned in Accountable Care," "Using Metrics to Manage & Make Strategic Decisions," "Patient Engagement: The Next Frontier," and "Motivating Behavior Change." Also, at each session, Featured Members make Strategic Advisory Board presentations, imparting valuable insights and receiving leveraged feedback from the Group.
ABL Members are also encouraged to attend every-other-monthly ABL Workshops and Conferences held on such topics as "Health Reform in Action," "Approaches That Work to Create a More Productive Culture," "Partnering to Win in an Era of Reformed Healthcare," and "Closing the Deal," where they can exchange ideas and connect with other chief executives from throughout California. Beyond their Round Table, ABL Members are encouraged to meet one-on-one, serving as one another's real-time advisors, leveraging each other's skills, expertise, and connections. Additionally, each Round Table's professional facilitator serves as an objective business advisor, offering executive and industry insights.
ABL's Healthcare Round Tables are held in Los Angeles, Orange County, San Diego, Silicon Valley and San Francisco; and the Organization's Technology Round Tables are held in Los Angeles, Orange County, and the San Gabriel Valley. More information about and testimonials from Members of the ABL Organization can be found at http://www.abl.org.