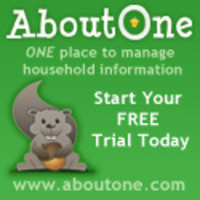 "The best part is they will even mail your cards for you," says AboutOne CEO Joanne Lang. "No struggling with difficult printed labels. No waiting in line at the post office!"
Philadelphia, PA (PRWEB) November 30, 2010
Just in time for the holidays, AboutOne.com (http://www.aboutone.com), the online service that helps busy moms preserve family memories and record household information, is offering yet another service to save time and make life easier for its customers. The company has partnered with AstonishingCards.com (http://www.AstonishingCards.com) to make this time of year a little less hectic with custom holiday cards that are automatically created, addressed, and mailed for the sender – all at the push of a button for the cost of the card and stamp.
"We've partnered with AstonishingCards to make it easier than ever to mail out cards, invitations and more," says Joanne Lang, CEO of AboutOne.com. "Just press the "Choose Your Card" button and AboutOne sends all the contacts on your card mailing list to AstonishingCards where you can select and send cards out with just a few clicks. The best part is they will even mail your cards for you. No struggling with difficult printed labels. No waiting in line at the post office!"
With four boys under the age of 6, Lang knows first-hand what it's like to be a busy mom, and this knowledge makes it easy for her to identify those activities that can add stress to family life. Her objective in partnering with AstonishingCards was to help busy moms reduce the stress associated with keeping in touch with friends and family during the holidays, and to create a cost-effective solution that allows a mom to spend more time with her family.
"We are particularly excited to be working with AstonishingCards because in 2011, they will begin offering so many unique services, including the ability to include a personalized message for each person on your mailing list, and individual personalized maps with driving instructions for each person," says Lang. "Their service is fast, easy, and affordable, without sacrificing quality."
AstonishingCards.com has some of the most advanced personalization tools available anywhere on the web. Their individualized mapping for invitations is the first application for creating a personalized map for each guest. Their personalized salutation feature is one of only a few applications to automatically personalize the salutation and address all of the envelopes with a few quick mouse clicks.
"We are very excited to launch our relationship with AboutOne," says John Welsh, CEO of AstonishingCards. "It is a wonderfully synergistic opportunity for both our companies to provide our customers with the most efficient means to create, print and mail greeting cards and invitations."
# # #