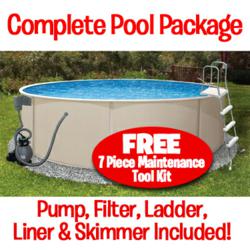 With above ground pools ranging from the Starter to the Superior class, PoolGear Plus has the perfect pool for any homeowner.
Clearwater, FL (PRWEB) April 11, 2012
PoolGear Plus, the pool supplies superstore, has added new above ground pool packages to their website and catalog. With above ground pools ranging from the Starter to the Superior class, PoolGear Plus has the perfect pool for any homeowner.
The Starter pool from PoolGear Plus is the Blue Lagoon™ above ground pool. Available only in round, this affordable pool comes in several sizes. This complete pool package starts at just $769.99 and includes the pool pump, filter, ladder, liner and skimmer. The pool is made of treated steel and features a 15-year limited warranty.
PoolGear Plus' Economy above ground pool is called the Belize™. Consumers can select a round or oval pool in one of several sizes. The Belize above ground pool is made of Star-Galfin® protected steel and features a six-inch toprail and a 15-year warranty. Belize pool packages start at just $849.95 and include a skimmer, pool liner, and pool light.
Homeowners looking for an upgraded but still budget-priced above ground pool will appreciate the Samoan™, which comes with a widemouth skimmer, pool liner, and pool light and features a six-inch toprail for extra stability. With a 30-year limited warranty, the Samoan above ground pool offers many years of backyard fun in the sun.
The 54"-high Tahitian™ is PoolGear Plus' Premium pool option. An elegant round 8" resin top seat gives the Tahitian above ground pool the beauty and durability of resin; extra-thick gauge steel in its uprights and sidewalls make this pool rugged and strong. The pool wall is protected by a patented PlastiGuard™ coating process that ensures that the outer pool wall will never rust. A beautiful non-corroding resin eight-inch toprail is injection-molded for super strength and is a true round shape, adding a graceful beauty to this pool. Because the toprail is resin, it is softer to sit upon and will not dent like a steel toprail. Because the Tahitian has been so well-protected from rust and corrosion in the walls, toprails, and base plates, it carries a 60-Year Warranty.
The Matrix™, a 54" top-quality above ground pool with an 8" toprail and a 60-year warranty, is PoolGear Plus' Premium above ground pool. This resin pool has a beautiful, elegant appearance; its contemporary style combined with high-tech materials make it the finest above ground pool on the market. Tailor-made for the do-it-yourselfer, this pool features snap-together toprails, bottom rails, and uprights, so pool installation has never been easier. As a resin pool, the Matrix is an improvement on the traditional steel-walled pool, incorporating unsurpassed beauty and strength in a corrosion-proof pool structure. Homeowners who are looking for the ultimate in quality and style for their families are investing in the Matrix above ground pool's premium features.
Both the Tahitian and Matrix above ground pool packages come with a widemouth skimmer and a uni-bead pool liner in the beautiful Pacific Diamond pattern. This pool liner is constructed of top-quality vinyl and loaded with UV inhibitors to ensure it lasts for years and years.
Homeowners who need assistance selecting the perfect pool can call PoolGear Plus' Pool Tech Line at 888-718-7946 or review PoolGear Plus' Above Ground Pool Comparison Chart.
About PoolGear Plus
PoolGear Plus is thrilled to begin another swimming pool season with their many loyal and new customers. PoolGear Plus' focus on exceptional customer service before, during, and after the purchase of pool products has helped them become and remain a top contender in the competitive pool supplies industry. With great values from top names including the Suncoast® line of pool chemicals backed by a strong devotion to their customers, PoolGear Plus looks forward to the 2012 swimming pool season. PoolGear Plus: Your Pool Is Our Passion.