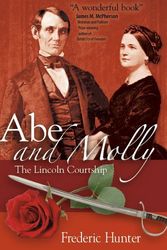 "Fella, take a hike" Mary Todd's family told Abraham Lincoln, in 1840
Santa Barbara, CA (PRWEB) June 15, 2010
A new book, "Abe and Molly: The Lincoln Courtship" released today, written by Frederic Hunter.
In this historical novel, Abraham Lincoln courted Mary (Molly) Todd. While courting, Mary Todd called him Mr. Lincoln. He called her Molly. Poverty and a backwoods background stood in his way. He was a self-taught lawyer, plagued with debt and timid with women. She was of aristocratic background, well-educated, vivacious and witty. All their friends thought them badly matched. But they became engaged. That alarmed her family. Their pressure forced Lincoln to break the engagement. They didn't see each other for eighteen months, then started courting again--secretly. This led to complications, which led to Abe Lincoln' s being challenged to a duel.
In this highly entertaining novel, Frederic Hunter catapults us through the surprising and at times turbulent personal relationship of this most famous American couple. Faithful to the existing historical record, Abe and Molly's lives unfold across the pages as they discover their love in frontier America of the late 1830s. History buffs will also enjoy a special section at the end of the novel with extensive notes about the historical record.
"Abraham Lincoln's courtship of and marriage to Mary Todd has been the subject of numerous myths, controversies and mysteries. Was there a formal engagement between them that Lincoln broke, did he fall into a deep depression after doing so. . . . did he really love her? . . . Frederic Hunter's "Abe and Molly," a sensitive novel based on genuine research, offers convincing speculations and plausible answers to these questions. All readers interested in the Lincolns will find this book a pleasure to read." – James M. McPherson, Pulitzer prize-winning author of Battle Cry of Freedom.
"Abe and Molly: The Lincoln Courtship" softcover and ebook editions are available through Nebbadoon Press at http://www.AbeAndMolly.com.
Join the facebook page at http://www.facebook.com/group.php?gid=129074447105827
# # #