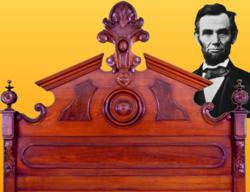 "There is no need to donate money to a politician for a chance to spend just one night in the Lincoln Bedroom. Now a person could bring the Lincoln Bed to their own home – and sleep in it every night!
Missoula, Montana (PRWEB) February 10, 2012
You now have the opportunity to sleep in the very bed that Abraham Lincoln slept in nearly 160 years ago. The owners of this hand-carved solid walnut bed are offering this unique piece of history on eBay.
Bob and Evelyn Swarner were pickers and antique collectors during the early 1960's. It was on an auction trip to Illinois that they had a chance to buy a hardwood walnut bed. Now, this was not just any ordinary walnut bed. It was an ornately carved walnut bed that had come from a local hotel. In fact, it was one of the very beds Abraham Lincoln slept in during his political campaigns in Illinois.
Bob tells of bidding on the bed, how the other bidder wanted to cut it up for walnut lumber. Well, Bob would have none of that! He ended up with the winning bid of $15. Next, he and Evelyn had to figure out how to get it back home to Iowa. They really hadn't planned on buying a bed, and certainly not a bed as big (over seven feet tall) and heavy as this one.
After strapping it to the roof of the car for the 3-4 hour journey, they finally arrived home and took some measurements. Evelyn exclaimed, "What do you mean we'll have to take the second story bedroom window frame out to get the bed in the house?" That is exactly what they did, and Bob and Evelyn slept on the Lincoln bed every night until they both passed on last year, both at the age of 88.
Bob and Evelyn's daughter now wants this bed to go to a loving home where it will be appreciated for its historical significance, explained more in this video. She thinks it could be a perfect addition to any Lincoln-themed museum or Bed and Breakfast. This cherished antique and historical family heirloom will go to the winning bid on eBay. You now have the opportunity to place this historical treasure in your own home. Learn more at http://www.TheLincolnBed.com
As Bob and Evelyn's son-in-law Ray LaFoy remarked, "There's no need to donate money to a politician for a chance to spend just one night in the Lincoln Bedroom. Now a person can bring the Lincoln Bed to their own home – and sleep in it every night!"
###