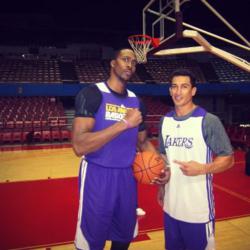 Make sure you drink lots of water...
at least half your weight in ounces a day.
Los Angeles, CA (PRWEB) November 21, 2012
With Thanksgiving and the official start of the holiday season just hours away - cover model and celebrity fitness trainer Diego Sebastian has a few tips to help you and your diet survive the holiday season in the best shape possible.
Though Santa Claus and a turkey are common symbols of the holiday season, the body shapes of these holiday "celebrities" may not be quite the look you're going for. But between gravy, cookies, airplanes, long car rides, and back-to-back football games on TV, there are lots of excuses to wind up looking like a butterball on January 1st. So here are 3 quick tips to learn how to stay fit during the holidays so you'll be able to squeeze in your calorie-burning and body-toning sessions.
1. The most important thing is to Make sure you drink lots of water! A person should drink at least half their weight in ounces a day. This will help flush any excess sodium and keep your metabolism on track.
2. Everybody should also Take some multi-vitamins & super greens to boost the immune system. Another important thing, make sure your getting proper sleep! Listen to your body - it knows what it's talking about.
3. During the winter months it perfectly normal for appetites to go up. To counter act this you could try taking fat-burners which tend to work great as an appetite suppressant. Fat-burners can also increase energy so that you can perform better at the gym and avoid the low-energy that comes along with using caffeine based appetite suppressants.
Diego Sebastian is a internationally known fitness cover model and celebrity trainer whose groundbreaking Shredded Abs App will be launching soon.