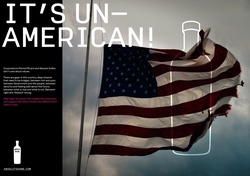 New York, NY (PRWEB) July 15, 2009
There has never been a more desperate need for corporate citizenship. However, Australian philanthropist Scott O. Talbot saw his unique idea for charity end up on the rocks after a surprise corporate turnaround. According to the complaint, Civil Action No. 08cv11020 (BAJ) (AJP)* after the Absolut Spirits Company, LLC was approached by Scott to sponsor a 'Charity Mixology' reality TV program, Absolut Vodka broadcast the show as their own creation, thus disadvantaging charities around the world, including the public at large.
"As alleged in the court documents, Pernod Richard and Absolut Vodka ravaged an opportunity for which they had no right, no consent. Each month, new poster editions will be distributed on the streets, in the media and on the web. The controversial campaign will demonstrate disgust from disadvantaged communities with the Absolut Spirits Company, LLC and Pernod Ricard, LLC," said Simon Rens, creator and producer of Absolutshame.com.
Simon Rens has launched the campaign to create awareness about the controversy and the ensuing loss to non-profits. http://www.absolutshame.com is being launched simultaneously in the U.S. and in Australia this month. Print, online and social media (http://apps.facebook.com/causes/316866/72329921?m=cc366e79) will be engaged to drive home a strong message of anger and disappointment.
The campaign will artistically illustrate controversial topics from homeless, hate crimes, domestic violence and other demographics disadvantaged by the theft of the Charity Mixology program.
*United States District Court, Southern district of New York
Case No. 08 CV 11020 (BAJ) (AJP). Charity Group, LLC and Scott O. Talbot (Plaintiffs) against- The Absolut Spirits Company, LLC and Pernod Ricard, LLC (Defendants)
###