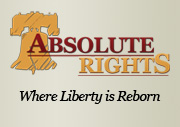 Learn all the information available before making any political decisions, says Young, and as always, "Be smarter than they think you are."
Austin, TX (PRWEB) November 09, 2012
Absolute Rights, the freedom fighting rights protectors, have published a new article from Managing Editor Tim Young on the post-election developments that were close to becoming real problems.
"What started as a simple protest at the University of Mississippi against the re-election of President Barack Obama quickly turned into a mob of people shouting racial slurs and inciting fights," Young wrote in the article. "The fights continued for a long period of time before being reigned in by police."
Young and Absolute Rights foresaw this sort of thing happening in previous articles and correspondence, and the article said it could be just the beginning.
"This type of rioting is what many experts were predicting around the country after the election... they further predict more of the same as the economy continues its downward spiral," wrote Young.
A frequent critic of the current administration, Young often asks readers to comment if they believe the country is headed in the right direction or not. This article is no exception, with the ending questions "What do you think is going to happen? Are you ready?"
Tim Young, a native of Baltimore, Maryland, joined Absolute Rights in the spring of 2012 and brought his brutally honest opinions with him. He has been consulted as an expert on campaign, social security, health care and labor policies. A professional stand-up comic, Young combines his political and comedic background to add a captivating voice to Absolute Rights' mission of rights protection.
Be sure to follow Tim on his various social media channels, including Facebook, Twitter, and Absolute Rights' YouTube Channel. Learn all the information available before making any political decisions, says Young, and as always, "Be smarter than they think you are."
Absolute Rights informs patriotic Americans on their given rights, plus helps protect those rights from government or disaster intrusion. Most importantly, it prides itself on alerting people when their rights are being threatened, creating an active and informed community. For more information, be sure to visit AbsoluteRights.com.