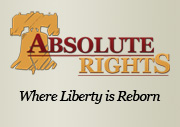 According to the article, empowered advanced nurse practitioners will drastically reduce the costs of healthcare by as much as 10%.
Austin, TX (PRWEB) November 30, 2012
The latest article from AbsoluteRights.com comes from new contributor Molly Patillo, and it includes her opinion on the eventual effects of Obamacare on the availability of primary care physicians.
"Under the not-so 'Affordable Care Act,' 2.2 million people will be added to Medicaid," wrote Patillo in the article. "The American Medical Association estimates a national shortage of 100,000 primary care physicians in the next 10 years."
Patillo continues the article with information on the push for advanced nurse practitioners (ANPs) to fulfill the need. Unfortunately, the article said that Texas hinders ANP capabilities "to reserve profits for physicians."
According to the article, empowered ANPs will drastically reduce the costs of healthcare by as much as 10%. In addition, it could provide a well-needed patch for a hole in the system, said Patillo.
"As a state with a history of committing to maintaining fiscal responsibility, Texas should pave the way for the rest of the nation in finding bipartisan solutions in the presence of a fiscal cliff," wrote Patillo in the article.
Information and opinions like this can be found daily on AbsoluteRights.com, where topics like survival, emergency readiness, politics, foreign affairs, and rights violations are covered extensively.
Molly Patillo joins the Absolute Rights team as a contributing writer, adding her knowledge and perspective to the already accomplished collection of freedom protectors and political informers. Under the leadership of Managing Editor Tim Young, Absolute Rights has gathered a fantastic group of writers and contributors, each adding their own level of expertise and skills to the forum.
Absolute Rights informs patriotic Americans on their given rights, plus helps protect those rights from government or disaster intrusion. Most importantly, it prides itself on alerting people when their rights are being threatened, creating an active and informed community. For more information, be sure to visit AbsoluteRights.com.