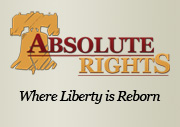 Learn all the information available before making any political decisions, says Young, and as always, "Be smarter than they think you are."
Ausitn, TX (PRWEB) September 22, 2012
A recent article from Absolute Rights, the freedom-fighting, rights-protecting information source, has highlighted the ruling that prisoners linked to terrorist activities are allowed to be detained forever.
Tim Young, Managing Editor of Absolute Rights, wrote the article and shared his own opinion on the topic.
"A federal appeals court has upheld the Obama administration's ability to indefinitely detain pretty much anyone they want to on Tuesday," Young said in the article. "Indefinite detention was ruled unconstitutional by a lower court earlier this year, but this ruling has essentially been overturned until a court can rule again on it on September 28th."
Essentially, says Young, the powers of the current administration are being twisted and abused to "put away people who speak out about the government."
"This law allows anyone who the executive branch of the federal government says can be linked to a terrorist organization to be arrested and detained forever without trial," Young wrote in the article.
A frequent critic of the current administration, Young asks readers if they believe the country's direction is the right way to be headed.
Tim Young, a native of Baltimore, Maryland, joined Absolute Rights in the spring of 2012 and brought his brutally honest opinions with him. He has been consulted as an expert on campaign, social security, health care and labor policies. A professional stand-up comic, Young combines his political and comedic background to add a captivating voice to Absolute Rights' mission of rights protection.
Be sure to follow Tim on his various social media channels, including Facebook, Twitter, and Absolute Rights' YouTube Channel. Learn all the information available before making any political decisions, says Young, and as always, "Be smarter than they think you are."
Absolute Rights informs patriotic Americans on their given rights, plus helps protect those rights from government or disaster intrusion. Most importantly, it prides itself on alerting people when their rights are being threatened, creating an active and informed community. For more information, be sure to visit AbsoluteRights.com.