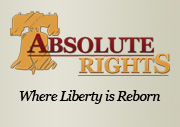 Absolute Rights informs patriotic Americans on their given rights, plus helps protect those rights from government or disaster intrusion.
Austin, TX (PRWEB) October 14, 2012
Absolute Rights, the liberty and freedom online information source, has published their latest semiweekly Newsletter, filling readers in on the latest developments at home and abroad.
The main article was written by Absolute Rights contributor Wallace Streete, who addressed the distinction between privacy concerns and government spying.
Though terrorism was a legitimate argument for government "snooping," Streete wrote in the article that it has gone too far. "At what point do we realize we no longer have the basic freedom to keep our private life private?" he asked.
"It's happening folks," wrote Streete. "Your rights are being taken away right in front of your eyes. You can't stop it either… Protect yourself now, before you lose what little you have left."
In the Crisis Ops portion of the Newsletter, survival food is covered, and the article refers to the trapping of small creatures as a useful technique when regular food runs out.
"I know that we say that you should pack Go Bags and store food for a crisis, but what happens when that food runs out?" the article asked. "The critical thing that you need to do each and every day is to learn. You should make sure to focus now on trapping techniques and what to do once you catch your dinner."
Contender's Corner, which is regularly devoted to political news and opinions, explains the concept of a Super PAC.
"As you may know about campaigns and contributions," wrote Managing Editor Tim Young in the article, "individuals and companies are limited to the amount of money that they can give. Super PACs were designed to skirt all of these rules."
"According to the current laws," Young wrote, "individuals and corporations can give an unlimited amount of money to Super PACs, because technically, these organizations aren't connected to or associated with a candidate."
In the last Newsletter section, Global Watch, Young shares the story of 14-year-old Malala Yousufzai who has "become the face of outrage against the Taliban in the country of Pakistan."
The article said Yousufzai's blog provoked an attack on her life by known terrorist groups, leading to an uproar of resistance against the Taliban.
The Absolute Rights Newsletter is sent to thousands of Absolute Rights email subscribers as part of the never-ending effort to bring relevant and captivating content directly to readers. Newsletters are distributed via email and the articles then appear online at AbsoluteRights.com.
Tim Young, a native of Baltimore, Maryland, joined Absolute Rights in the spring of 2012 and brought his brutally honest opinions with him. He has been consulted as an expert on campaign, social security, health care and labor policies. A professional stand-up comic, Young combines his political and comedic background to add a captivating voice to Absolute Rights' mission of rights protection.
Absolute Rights informs patriotic Americans on their given rights, plus helps protect those rights from government or disaster intrusion. Most importantly, it prides itself on alerting people when their rights are being threatened, creating an active and informed community. For more information, be sure to visit AbsoluteRights.com.