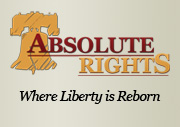 Absolute Rights Newsletters are distributed via email and the articles then appear online at AbsoluteRights.com.
Austin, TX (PRWEB) October 17, 2012
Absolute Rights has released their most recent Newsletter, and in it Managing Editor Tim Young expresses some political views based off of the latest debates. The Newsletter also includes an article on caring for the elderly or folks with special needs in a disaster, as well as a wrinkle in the Syrian conflict.
The main article is Young's opportunity to comment on the ongoing Presidential race. His claim that the media is biased against Republicans stems from the response of major news outlets after the Vice Presidential debate.
"We haven't seen this more than in the past week where, after the debate between Congressman Ryan and Vice President Biden, the media sided with Biden," Young wrote. "If you watched the debate, you would have seen, as most of America did, that Paul Ryan made great points… and pretty much defeated the VP."
Young couldn't help but disagree with the majority of media coverage post-debate, and goes on to explain how he feels Americans have been trained to think about Republicans.
"My recommendation is to pay attention to more than what you think you should. I watch and read more news than I should, but that's because I want to bring you the best information that I possibly can," opined Young in the article.
The Crisis Ops portion of the Newsletter is devoted to caring for the elderly, children, and people with special needs in a disaster situation. Young writes that "It's so easy to write about crisis and not remember to include those who are handicapped, elderly, pregnant, or just plain slower than the fittest member of your family."
In the Contender's Corner section, more debate discussion is conducted by Young. The article goes more in-depth on the Vice Presidential debate, and Young makes exclamations and predictions on what happened, and what the candidates will need to focus on in the remaining few.
"Millions of people tuned in to watch Congressman Paul Ryan take on Vice President Joe Biden in what has been the most exciting debate of this election season. Biden and Ryan sparred on foreign policy and the economy. The most memorable piece of the debates had to have been the Vice President's attitude," said Young in the article.
Finally, the Global Watch Newsletter section highlighted the foreign country involvement in the Syrian civil war.
Young writes about an accusation, first reported in October by FOX News, that "there is a good chance that Syria has been using Russian made cluster bombs on its people during this ongoing war."
The Absolute Rights Newsletter is sent to thousands of Absolute Rights email subscribers as part of the never-ending effort to bring relevant and captivating content directly to readers. Newsletters are distributed via email and the articles then appear online at AbsoluteRights.com.
Tim Young, a native of Baltimore, Maryland, joined Absolute Rights in the spring of 2012 and brought his brutally honest opinions with him. He has been consulted as an expert on campaign, social security, health care and labor policies. A professional stand-up comic, Young combines his political and comedic background to add a captivating voice to Absolute Rights' mission of rights protection.
Absolute Rights informs patriotic Americans on their given rights, plus helps protect those rights from government or disaster intrusion. Most importantly, it prides itself on alerting people when their rights are being threatened, creating an active and informed community. For more information, be sure to visit AbsoluteRights.com.