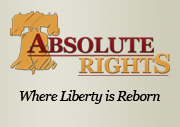 The Newsletter is a collection of relevant news and features that is sent to subscribers twice a week to keep them informed on the most recent topics and issues.
Austin, TX (PRWEB) October 22, 2012
Absolute Rights, the freedom protectors and political, survival, and preparation information source, has published the latest of their semiweekly Newsletters. The Newsletter is a collection of relevant news and features that is sent to subscribers twice a week to keep them informed on the most recent topics and issues.
The main article takes an extensive look at Glock guns from David Morris, an author, trainer, and expert in handling and firing guns.
"I've read debates for years saying how poor of a gun Glocks are. I never understood the criticism," wrote Morris in the article. After a close up look at how Glocks perform the way they do, Morris exclaims that "instead of picking a cool gun, and then figuring out how to get good with it, pick a gun that compliments your natural ability."
The Crisis Ops portion of the Newsletter explains the usefulness of canning foods, especially this time of year. "Every year we go through the same thing, and whether or not many people realize it, they prepare for the winter just like they would prepare for a crisis, by canning," said the article.
The process, according to the article, has been essentially unchanged in a century, which is why canning food is one of the best ways to store food.
"Whether you're prepping just for the winter, or for a crisis, it's a no-brainer to can," the article said.
Contender's Corner has been strictly dedicated to the Presidential race, as Election Day quickly approaches. In the article, Absolute Rights Managing Editor Tim Young claims that the media has trumpeted President Obama as "making a comeback," but in reality the polls are contradicting that distinction.
Young cites a recent Gallup Poll that Romney ahead by a score of 51 to 45. "Romney was tied with Obama at the beginning of October with an even poll of 48 – 48, but that has all changed thanks to heavy campaigning in swing states and Romney's performance in debates," said Young in the article.
The Global Watch portion of the Newsletter asks the question, "Is Fidel Castro dead?"
"A lot of experts have thought that Fidel Castro has been dead for months… even years… but his home country of Cuba continues to deny these rumors," Young wrote.
The Absolute Rights Newsletter is sent to thousands of Absolute Rights email subscribers as part of the never-ending effort to bring relevant and captivating content directly to readers. Newsletters are distributed via email and the articles then appear online at AbsoluteRights.com.
Tim Young, a native of Baltimore, Maryland, joined Absolute Rights in the spring of 2012 and brought his brutally honest opinions with him. He has been consulted as an expert on campaign, social security, health care and labor policies. A professional stand-up comic, Young combines his political and comedic background to add a captivating voice to Absolute Rights' mission of rights protection.
Absolute Rights informs patriotic Americans on their given rights, plus helps protect those rights from government or disaster intrusion. Most importantly, it prides itself on alerting people when their rights are being threatened, creating an active and informed community. For more information, be sure to visit AbsoluteRights.com.