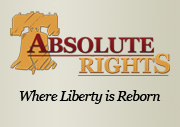 Wallace Streete, Absolute Rights Senior Contributor, wrote the main article and focused on American's Second Amendment Rights.
Austin, TX (PRWEB) October 07, 2012
The eighty fifth edition of the Absolute Rights Newsletter has been released, and as usual, the preeminent liberty and freedom news source is providing readers with a wealth of political and survival knowledge.
Wallace Streete, Absolute Rights Senior Contributor, wrote the main article and focused on American's Second Amendment Rights. According to the piece, defending personal well-being with a firearm isn't exactly legal, and many aren't aware.
"There are a lot of people out there who think that it's wrong to shoot another person EVEN in self-defense… sadly, those people are in the government and criminal justice system," Streete wrote.
"In America today, you are given a fake right to protect yourself," he continued. "See, people who stand up for their property or families in the heat of the moment aren't wrong… but they are immediately put into the legal system where they have to defend their rights to defend themselves."
The Newsletter regularly features a Crisis Ops section, dedicated to survival news, tips, and advice. In this edition, the article asks, "Is expensive the way to go when buying survival gear?"
Generic, off-brand survival supplies are usually just as good as their pricy, recognizable counterparts, the article said. When it comes down to it, saving money is very important to some people, and survival preparations can be made on a strict budget. It just takes more work and a diligent outlook, according to the piece.
In Contender's Corner, the first Presidential debate is covered, with a claim that "Almost all pundits have agreed that Mitt Romney won."
"Instant polls came in saying that 67% of people watching said that Romney won," the article said. "If you also watched networks like CNN, the poll ticker at the bottom would go extremely high for Mitt Romney and stay flat for Barack Obama."
To finish the Newsletter, Absolute Rights published a Global Watch article about the upcoming Venezuelan election between incumbent Hugo Chavez and his no-name challenger, Henrique Capriles Radonski.
"As you know," wrote Young in the article, "Venezuela is one of the world's largest producers of crude oil, so this election means a lot to the world, and especially to the United States."
The Absolute Rights Newsletter is sent to thousands of Absolute Rights email subscribers as part of the never-ending effort to bring relevant and captivating content directly to readers. Newsletters are distributed via email and the articles then appear online at AbsoluteRights.com.
Tim Young, a native of Baltimore, Maryland, joined Absolute Rights in the spring of 2012 and brought his brutally honest opinions with him. He has been consulted as an expert on campaign, social security, health care and labor policies. A professional stand-up comic, Young combines his political and comedic background to add a captivating voice to Absolute Rights' mission of rights protection.
Absolute Rights informs patriotic Americans on their given rights, plus helps protect those rights from government or disaster intrusion. Most importantly, it prides itself on alerting people when their rights are being threatened, creating an active and informed community. For more information, be sure to visit AbsoluteRights.com.