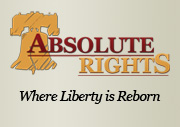 This week's edition of the Newsletter included a main article by Absolute Rights Managing Editor Tim Young in which he talks about America's acclimation to a lower moral standard.
Austin, TX (PRWEB) October 10, 2012
Absolute Rights, the website where liberty is reborn, has published its newest version of the semiweekly Newsletter that brings informative and beneficial articles directly to readers' inboxes.
This week's edition included a main article by Absolute Rights Managing Editor Tim Young in which he talks about America's acclimation to a lower moral standard. Young's strong opinion is conveyed in the article, and he addresses what he calls "the acceptance of failure in this nation."
"I can't help but notice that the morality of this country has shifted. Now this could be caused by a lot of different things… but really just comes down to who is in office right now," wrote Young in the article.
"What's happening is that we, as a country, are forgetting about the basic concept of American exceptionalism," Young wrote. "We aren't better than the rest of the world and we shouldn't expect to have greater successes than anyone else."
The survival-based Crisis Ops section of the Newsletter discussed the power-generating difficulties when living or surviving "off the grid."
"Power is a different situation," the article said. "We need energy to charge any communications device we may have, to light lights, to cook, and to cool our areas and food for preservation. Our best source of power for all of this is the sun."
Solar powered generators are some of the best items to own when off the grid, the article said; technology has improved so much that they aren't as heavy or bulky as they once were.
Tim Young wrote the Contender's Corner portion of the Newsletter, which focuses on the Vice Presidential debate. The article states the opinion that one of the best ways to avoid losing is to make it seem like the debater has no chance to begin with.
"Thursday night marks the only Vice Presidential debate of this election cycle, and Paul Ryan is set to verbally destroy Joe Biden," said Young in the article. "The only problem is that Biden has been set up to win the debate because he stands no chance."
"Winning the verbal contest is only half of the battle in debates," wrote Young. "If the public believes that you absolutely cannot win, and you have a decent showing, they, and your pundits, will make it seem as if you won."
In the Global Watch Newsletter article, news of Hugo Chavez's election win in Venezuela. This "changes nothing" for the US, says the article, with the same leadership in an oil rich foreign country.
The Absolute Rights Newsletter is sent to thousands of Absolute Rights email subscribers as part of the never-ending effort to bring relevant and captivating content directly to readers. Newsletters are distributed via email and the articles then appear online at AbsoluteRights.com.
Tim Young, a native of Baltimore, Maryland, joined Absolute Rights in the spring of 2012 and brought his brutally honest opinions with him. He has been consulted as an expert on campaign, social security, health care and labor policies. A professional stand-up comic, Young combines his political and comedic background to add a captivating voice to Absolute Rights' mission of rights protection.
Absolute Rights informs patriotic Americans on their given rights, plus helps protect those rights from government or disaster intrusion. Most importantly, it prides itself on alerting people when their rights are being threatened, creating an active and informed community. For more information, be sure to visit AbsoluteRights.com.