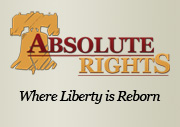 The most controversial story in the Newsletter comes from the Global Watch section, where the allegations of a secret prison in Benghazi are discussed.
Austin, TX (PRWEB) November 14, 2012
Absolute Rights, the rights and freedom protectors, have issued their latest Newsletter with articles on Republican slip ups, surviving without power, and a supposed secret prison in Benghazi.
The featured article was written by Managing Editor Tim Young, and in it he describes why he think Republicans lost during the 2013 election season. Mitt Romney's defeat wasn't the only noteworthy result, and Young believes it was due to a combination of things.
"A lot of people are blaming some ridiculous things and concocting crazy theories as to why Obama won... but in reality, Obama didn't win as much as the Republican Party lost," Young said in the article. "When you combine terrible candidates with a strategy to trick people into seeing social issues as more important than a complete economic collapse, you have no chance in hell of winning an election."
The Crisis Ops section of the Newsletter shares survival lessons that can be taught by disasters like Hurricane Sandy. When power is lost and fuel is in short supply, the need to prepare becomes even more apparent.
"We can learn a lot from this crisis, especially how to prepare for a catastrophe like this," the article said. "Even if you have very limited space, you should store water, food and fuel, because you never know when something like this could happen to you."
Since the Presidential race is over, the Contender's Corner section looked forward to the next possible round of campaigns, and who would take the Democratic candidacy.
"With Barack Obama winning in a shocking landslide last Tuesday, the focus now turns to Hillary Clinton, who was essentially runner-up to Obama in 2004," Young write in the article.
The most controversial story in the Newsletter comes from the Global Watch section, where the allegations of a secret prison in Benghazi are discussed.
"It goes without saying that there are a lot of these types of prisons around the world with every country's secret police," said the article. "But here, it would have made sense for the Administration to be honest with the American people, especially before the election and before ruining the life of the guy who made that terrible satirical movie about Islam and Muhammad."
The Absolute Rights Newsletter is sent to thousands of Absolute Rights email subscribers as part of the never-ending effort to bring relevant and captivating content directly to readers. Newsletters are distributed via email and the articles then appear online at AbsoluteRights.com.
Tim Young, a native of Baltimore, Maryland, joined Absolute Rights in the spring of 2012 and brought his brutally honest opinions with him. He has been consulted as an expert on campaign, social security, health care and labor policies. A professional stand-up comic, Young combines his political and comedic background to add a captivating voice to Absolute Rights' mission of rights protection.
Absolute Rights informs patriotic Americans on their given rights, plus helps protect those rights from government or disaster intrusion. Most importantly, it prides itself on alerting people when their rights are being threatened, creating an active and informed community. For more information, be sure to visit AbsoluteRights.com.