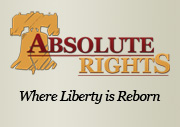 Absolute Rights Newsletters are distributed via email and the articles then appear online at AbsoluteRights.com.
Austin, TX (PRWEB) November 18, 2012
Absolute Rights has released their latest Digital Newsletter, and it's filled with information on composting, gun rights, and government monitoring. As with all Absolute Rights Newsletters, this one contains valuable tips and knowledge that will help emergency preparations and rights protection.
The main article was written by Lucinda Bailey, the Seed Lady from Texas Ready Seed Banks, and is the second installment of her series on composting. She covers several types of composting so readers can determine which is best for them.
"Just as there are different styles of gardening, so too are there different styles of aerobic composting," wrote Bailey.
She includes seven tips that can help create a worthy composting process, and produce healthy, effective fertilizer for any garden.
The Crisis Ops Newsletter section features hints towards the continued monitoring of digital information from the Federal Government.
"In case you didn't think it was happening already, Google released information the other day showing that they have given the government more information about their users than ever before," the article said.
"Add to this information the fact that there are drones in the skies over most cities now, and you'll realize how quickly your privacy is going to go away under this administration," said the article. "To top everything else off, Google predicts that at the current pace, the government will most likely double its information requests every year as the monitoring of Americans grows by the day."
The Contender's Corner feature is written by new Absolute Rights contributor Brent Dickerson, and it brings attention to the We the People website ran by the American government. As Dickerson puts it, the site "is a place for anyone to petition the White House and receive special attention if it gets over 25,000 signatures."
Of course, some Americans have taken this to extremes, and gone as far as to develop petitions for specific states to secede from America.
"The question though should not be whether it gets serious examination from the President, but rather, why we cannot honestly discuss this possibility. It is mocked and ridiculed up and down the levels of public opinion, but should it be?" asked Dickerson in the article.
In the Global Watch section, Dickerson again adds his content to the Newsletter, this time declaring he intends to exercise his Second Amendment rights. Why?
"Barack Obama announced in 2009 that his administration would support a United Nations gun control treaty, and moments after his reelection in 2012 his administration declared renewed interest in international regulation of small arms," wrote Dickerson.
The Absolute Rights Newsletter is sent to thousands of Absolute Rights email subscribers as part of the never-ending effort to bring relevant and captivating content directly to readers. Newsletters are distributed via email and the articles then appear online at AbsoluteRights.com.
Tim Young, a native of Baltimore, Maryland, joined Absolute Rights in the spring of 2012 and brought his brutally honest opinions with him. He has been consulted as an expert on campaign, social security, health care and labor policies. A professional stand-up comic, Young combines his political and comedic background to add a captivating voice to Absolute Rights' mission of rights protection.
Absolute Rights informs patriotic Americans on their given rights, plus helps protect those rights from government or disaster intrusion. Most importantly, it prides itself on alerting people when their rights are being threatened, creating an active and informed community. For more information, be sure to visit AbsoluteRights.com.