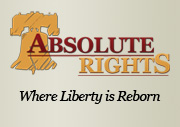 Absolute Rights informs patriotic Americans on their given rights, plus helps protect those rights from government or disaster intrusion.
Austin, TX (PRWEB) November 21, 2012
The most recent Absolute Rights Newsletter has been sent out to readers, and it was compiled by Managing Editor Tim Young to inform survivalists and patriots of rights violations and emergency preparations.
The main article states that the left has created a villain out of Christianity, and Young believes
"This game of Christianity started at the Democratic National Convention. The delegates there boo'ed the concept of having God become part of their platform," said Young in the article.
"Intelligent folks knew better..," Young wrote, "but in the end, the majority of people will take hugs and free stuff over logic and a change for the better in this nation. I tell you all this, because if we don't learn from what happened, we will allow history will repeat itself again. I also tell you this because it's time to stop complaining, pick up the pieces and move on."
Crisis Ops, the Newsletter section that includes vital survival information, tells readers how to survive getting stuck in snow. The best method of staying warm may surprise some people.
"Oddly enough, many experts will tell you to get out of those wet clothes. Wet clothes will suck the heat off of your body, increasing hypothermia and pain for you rather than warming you up," the article said. "Yes, you'll need to find shelter and hopefully build a fire... but your best bet to survive the cold is to get out of those cold, wet clothes."
The Contender's Corner portion was written by Absolute Rights contributor Brent Dickerson, and discusses the need for elected officials to better understand the Constitution they are supposed to be protecting.
"These people are elected to uphold the Constitution, but do little to serve it because they have inferior knowledge of it," wrote Dickerson. He has devised a way to hopefully bring this matter to the attention of politicians through a grassroots movement.
"In brief, I envision hundreds, if not thousands, of Americans flooding the offices of congress with informative books on these basic subjects. I want them to be overwhelmed with the level of knowledge and information that the people have on these subjects compared to their own because we have taken the time to inform ourselves," said Dickerson in the article.
Finally, the Global Watch Newsletter article was written by Young, and covers the recent movement by Israel against its enemies: "It seems as if the Jewish nation has been getting more and more encroached upon over the past few months and the threats don't seem to be subsiding."
"America seems to be ignoring it," opined Young, "even after the attacks in Benghazi, but Israel is getting proactive about it. Last week, the country took out multiple leaders from Hamas including Ahmed Jabari, the head of its military wing. What happens next could very well be all out war."
The Absolute Rights Newsletter is sent to thousands of Absolute Rights email subscribers as part of the never-ending effort to bring relevant and captivating content directly to readers. Newsletters are distributed via email and the articles then appear online at AbsoluteRights.com.
Tim Young, a native of Baltimore, Maryland, joined Absolute Rights in the spring of 2012 and brought his brutally honest opinions with him. He has been consulted as an expert on campaign, social security, health care and labor policies. A professional stand-up comic, Young combines his political and comedic background to add a captivating voice to Absolute Rights' mission of rights protection.
Absolute Rights informs patriotic Americans on their given rights, plus helps protect those rights from government or disaster intrusion. Most importantly, it prides itself on alerting people when their rights are being threatened, creating an active and informed community. For more information, be sure to visit AbsoluteRights.com.