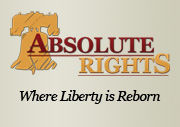 Absolute Rights informs patriotic Americans on their given rights, plus helps protect those rights from government or disaster intrusion.
Austin, TX (PRWEB) December 03, 2012
The latest Digital Newsletter from Absolute Rights has been published, and in it several articles are helping keep readers informed about the political and survival topics relative to today's conditions.
The main article comes from the "Seed Lady," also known as Lucinda Bailey from Texas Ready Seed Bank. She goes in depth on the topic of heirloom seeds, sharing the best ways to preserve various plant seeds to extend their value and production.
"Always select your hardiest, disease-free, most productive and best looking plants for seed saving purposes," wrote Bailey in the article. "Never rely on a single fruit or plant for next year's seed. Strong genetic diversity is important."
The Crisis Ops section of the Newsletter includes beneficial information on the addition of honey to a survival food supply. Besides having a virtually endless lifespan, honey contains valuable nutrients and packs a huge energy punch.
"Honey is a super food," the article said. "It's natural, it's for the most part unprocessed, and can provide you hours and hours of energy for long hauls. Honey has many different qualities that can help improve your life."
In the Contender's Corner portion, contributing writer Brent Dickerson shared his opinion on the incomprehensible amount of government spending going on in Washington, DC.
After a news announcement from Republican House Speaker John Boehner about the fiscal cliff and federal spending negotiations with the Democrats, Dickerson said "All I can think is how I would love to play poker with this man, because I would win, and he would lose – no ifs, ands, or buts about it."
Upset with his party's approach, Dickerson sarcastically added "Congratulations Republicans, once again you have not only shown your hand, but you have let the left define the argument with misrepresentations and lies, and you all can't even get out and make a clear argument that we don't have an income problem, we have a spending problem."
The last portion of the Newsletter is the Global Watch article, which was written by contributor Molly Patillo. The article takes a look at Guantanamo Bay, the notorious prison reserved for terrorists and criminals of unspeakable kinds.
Though Patillo acknowledges financial arguments to close the prison and bring the prisoners to American soil, she still vehemently disagrees with the thought of such horrible people being within our borders.
"These men are a security threat and do not belong on American soil, nor do they deserve the opportunity to have a civilian trial. While the cost of holding Gitmo prisoners may be high, there are some things that are worth the cost," wrote Patillo in the article.
The Absolute Rights Newsletter is sent to thousands of Absolute Rights email subscribers as part of the never-ending effort to bring relevant and captivating content directly to readers. Newsletters are distributed via email and the articles then appear online at AbsoluteRights.com.
Absolute Rights informs patriotic Americans on their given rights, plus helps protect those rights from government or disaster intrusion. Most importantly, it prides itself on alerting people when their rights are being threatened, creating an active and informed community. For more information, be sure to visit AbsoluteRights.com.