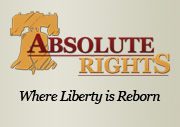 The main article comes from contributor Gaye Levy, and it focuses on keeping all members of a family involved in emergency preparations.
Austin, TX (PRWEB) November 11, 2012
In the latest edition of the Absolute Rights Newsletter, Gaye Levy shares tips for prepping families, Tim Young writes about Republican losses, and other election topics are covered.
The main article comes from contributor Gaye Levy, and it focuses on keeping all members of a family involved in emergency preparations. Children require extra precautions and plans, and Levy helps people understand what's most important.
"Not only must parents and caregivers deal with their own stressful circumstances, they must also deal with the fears and emotions of young ones who may not fully understand the chaos and the changes that are going on around them," wrote Levy.
The article covers twelve tips, and explains the reasoning behind the need to help kids understand how and why they should be ready for anything.
Tim Young, Absolute Rights Managing Editor, wrote the Contender's Corner Newsletter section, which highlights the hit taken by Republican candidates across the election landscape.
"In one of the most lopsided elections in recent history, the Republican Party lost seats in the Senate, the House of Representatives and of course the White House," Young wrote in the article.
The Crisis Ops section is home to an article that reported on the possibility of widespread riots that could occur based on the American election results.
"With the power of social media today, a few people gathering can advertise and create a large riot situation just as quickly in any region of the country," the article said.
Global Watch, the Newsletter article that covers foreign affairs, said that China's upcoming elections could be just as important as America's. With China emerging as a competitor in the world superpower race, their leadership could have serious implications on the rest of the world.
"Whatever happens, we should be very cautious and keep an eye on the developments in their nation over the next month," wrote Young in the article.
The Absolute Rights Newsletter is sent to thousands of Absolute Rights email subscribers as part of the never-ending effort to bring relevant and captivating content directly to readers. Newsletters are distributed via email and the articles then appear online at AbsoluteRights.com.
Tim Young, a native of Baltimore, Maryland, joined Absolute Rights in the spring of 2012 and brought his brutally honest opinions with him. He has been consulted as an expert on campaign, social security, health care and labor policies. A professional stand-up comic, Young combines his political and comedic background to add a captivating voice to Absolute Rights' mission of rights protection.
Absolute Rights informs patriotic Americans on their given rights, plus helps protect those rights from government or disaster intrusion. Most importantly, it prides itself on alerting people when their rights are being threatened, creating an active and informed community. For more information, be sure to visit AbsoluteRights.com.