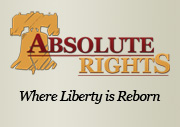 A professional stand-up comic, Tim Young combines his political and comedic background to add a captivating voice to Absolute Rights' mission of rights protection.
Austin, TX (PRWEB) September 28, 2012
Absolute Rights has released their most recent Newsletter, and it includes features on America's policy on indefinite detention, cleaning water in an emergency, First Amendment rights, and the left-leaning press.
The main article is written by Absolute Rights Managing Editor Tom Young. It surrounds the recent National Defense Authorization Act of 2012, which allows anyone "suspected of any activity related to a known terrorist organization, [to] be held indefinitely without trial."
Young proceeds to go through seven different scenarios in which people could be put away for the rest of their lives with no trial.
The Crisis Ops portion of the Newsletter alerts people to the best survival skills to obtain. In this issue, cleaning water is covered, and the age-old question of boiling to sterilize is addressed. The truth may be surprising to some.
In Contender's Corner, an increasingly important section of the Newsletter as we approach the November election, Young writes about some possible collusion between President Obama and the American press.
"The Daily Caller broke the story earlier this week that Internal DOJ emails show Eric Holder's communications staff collaborating with Media Matters for America, a left-wing advocacy group, in order to silence and break down the bad press that the Obama appointed department has been hurt by over the past few months," said Young in the article.
The Global Watch section of the Newsletter highlighted the First Amendment issues that were brought up by the French magazine Kate Middleton fiasco.
"See, that magazine was fined a few thousand dollars and ordered to stop publishing the issues with the photo in them," Young wrote. "Now I know that may seem minor, after all, they are indecent photos of someone, but this could NEVER occur in America."
"Many countries around the world limit what their press can publish and say about their leaders," said Young. "In America, we do not. I want you to think about that. For as much liberal bias that there is in the media, we are allowed to counteract it with free thought and not be punished for it."
The Absolute Rights Newsletter is sent to thousands of Absolute Rights email subscribers as part of the never-ending effort to bring relevant and captivating content directly to readers. Newsletters are distributed via email and the articles then appear online at AbsoluteRights.com.
Tim Young, a native of Baltimore, Maryland, joined Absolute Rights in the spring of 2012 and brought his brutally honest opinions with him. He has been consulted as an expert on campaign, social security, health care and labor policies. A professional stand-up comic, Young combines his political and comedic background to add a captivating voice to Absolute Rights' mission of rights protection.
Absolute Rights informs patriotic Americans on their given rights, plus helps protect those rights from government or disaster intrusion. Most importantly, it prides itself on alerting people when their rights are being threatened, creating an active and informed community. For more information, be sure to visit AbsoluteRights.com.