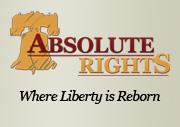 Brockston W. Posner Smuck is an attorney in Maryland and an avid supporter of individual liberties.
Austin, TX (PRWEB) November 17, 2012
Absolute Rights and their newest contributor Brockston W. Posner Smuck have released a recent article about the implications of Obamacare and the job market.
Posner Smuck's perspective on the "fiscal responsibility" of the Democrats has him believing the effect is being felt almost immediately since Obama was chosen for a second term.
"Within a few days after Election Day, numerous companies across America, both large and small, have announced employee layoffs and hour reductions. The reason? The relative certainty that the Patient Protection and Affordable Care Act will remain on the books," wrote Posner Smuck.
"Companies will no longer be able to afford to keep as many full time employees on their rolls," said Posner Smuck, and this is thanks to the new Act.
Posner Smuck follows this realization with a list of employers who have already announced cuts and layoffs, including big names like Papa John's Pizza and Boston Scientific.
"The only viable solutions to this coming crisis are either a full-scale repeal of the Act or a series of amendments that cushion the blow to America's job creators," Posner Smuck wrote in the article.
Comments are encouraged on all Absolute Rights articles, as readers will always add more to the conversation. Leave a comment on the website in the section below the article.
Brockston W. Posner Smuck is an attorney in Maryland and an avid supporter of individual liberties. He earned his Juris Doctorate in 2006 and fights for people's constitutional rights in the City of Baltimore on a daily basis.
Be sure to follow Absolute Rights on its various social media channels, including Facebook, Twitter, and YouTube. Learn all the information available before making any political decisions, says Managing Editor Tim Young, and as always, "Be smarter than they think you are."
Absolute Rights informs patriotic Americans on their given rights, plus helps protect those rights from government or disaster intrusion. Most importantly, it prides itself on alerting people when their rights are being threatened, creating an active and informed community. For more information, be sure to visit AbsoluteRights.com.