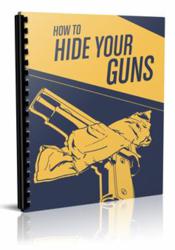 Austin, TX (PRWEB) February 14, 2013
Places to conceal a gun aren't easy to figure out, especially when the safety of loved ones is of great concern, according to a new article from Absolute Rights. The fastest growing news and opinion website is giving people help with the process of securely storing firearms within the home, vehicle, and anywhere else that will keep them out of eyesight while still being readily accessible. How to Hide Your Guns, the newest Special Report from Absolute Rights, will guide people through the steps necessary for safe and efficient gun storage options.
Gun owners could devote weeks to reading every resource they can find on the subject of hiding guns, and the article said they will still not learn as much information as this one 11-page Special Report provides. How to Hide Your Guns gives readers the instructions needed to build secret hiding spots and fast-access storage compartments for any kind of firearm or weapon.
In an emergency situation, the article said that having a concealed gun on hand doesn't just mean self-defense; guns can diffuse a potentially violent situation. The power of presenting a gun with confidence and know-how can prevent any bullets from being shot, meaning just the presence of a firearm can make a significant difference in a family's overall safety, said the article.
Using lamps, clocks, or picture frames as gun storage mechanisms is a practical and sensible way of hiding firearms, according to Absolute Rights. How to Hide Your Guns will guide people through the creation of a variety of foolproof concealment spots.
The article pointed at recent factors that have raised concern over gun ownership, proving that the time for firearm concealment is now. Major weather disasters, government authority changes, and a stigma attached to gun owners have all shown how quickly things can change, said the article. How to Hide Your Guns will show people how to defend their Second Amendment rights and secure their firearms in the proper ways.
The article said there are easy and affordable ways to modify furniture, cupboards, and other everyday home accessories to store guns, and How to Hide Your Guns will provide the best strategies. The tips in the Special Report will keep things sensible and reliable while still ensuring the accessibility of guns should they be called upon.
How to Hide Your Guns also helps people avoid common mistakes that are not only inconvenient but also dangerous. If a gun is stored incorrectly inside a couch cushion or under a mattress, the outcome could produce a bigger problem than a home invasion, said the article.
Absolute Rights is the fastest growing news and opinion site on the web. It is providing content and insight on the hottest topics circulating through the web and beyond. For more information on the site, go to AbsoluteRights.com.
Absolute Rights respects the Constitutional rights of Americans, and wants to help protect them with informational material. Special Reports like this one provide the knowledge base and skill set needed to stay prepared and preserve nationally-given rights. The article suggested finding out the best places to conceal a gun by accessing the Special Report today.