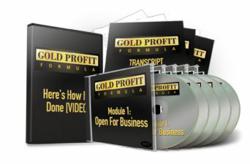 The rush to become a gold buyer is attracting more attention by the day, and trying to turn amateurs into experts has developed into an industry of its own.
Austin, TX (PRWEB) April 21, 2013
Gold Profit Formula, Absolute Wealth's comprehensive gold and jewelry dealing program, is giving folks the help they need to develop their personally-owned business in a continuously profitable arena. A recent article from AbsoluteWealth.com said members who join the program have access to an unprecedented level of amazingly effective tips and tools.
Absolute Wealth has provided members of the Gold Profit Formula with the essential advice and resources needed to create a money making opportunity in the midst of such high gold price levels. Even with recent fluctuations, the article said the value of gold has withstood a high enough level for jewelry dealers to cash in more directly.
The extensive knowledge and useful tools in the Gold Profit Formula member's area grants people the ability to establish their own process of buying and selling used jewelry, said the article. It helps them understand the refining process, and eliminate the middleman approach that many pawn shops and "Cash for Gold" businesses maintain. When a personal jewelry dealer executes transactions with individuals, Absolute Wealth believes the direct relationship helps build trust and reliability.
Along with the powerfully beneficial resources, the article said Gold Profit Formula also provides business-starting tools which can help build the right foundation for an eventual income-generating hobby. Beyond that, people have found that they can add to their savings and create a source of recognition, helping them increase their effectiveness in this advantageous opportunity, according to the article.
The Gold Profit Formula encourages seizing every opportunity that presents itself, and looking in uncommon places for sources of business. The article said church-goers often donate jewelry to their place of worship, and the church rarely knows what to do with it. Estate sales can contain massive amounts of gold and precious metals. Even dentists collect their used fillings to sell. Gold business can be found just about anywhere, according to Absolute Wealth.
Gold, silver, and other precious metals will forever be the most recognized and sought-after jewelry, but the article said right now they represent a true money-making business opportunity. The rush to become a gold buyer is attracting more attention by the day, and trying to turn amateurs into experts has developed into an industry of its own.
Absolute Wealth is an expert team of real investors and advisors devoted to identifying winning strategies for exceptional returns. Members subscribe to the company's Independent Wealth Alliance for professional investment analysis on the latest market trends and progressions. For more information and subscription instructions, visit AbsoluteWealth.com.
The timing is perfect for this sort of assistance in setting up a gold dealing business, said the article. Find out more information on accessing the Gold Profit Formula.