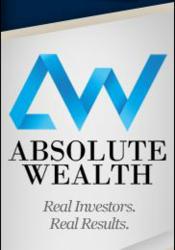 Videos like this are created daily by AbsoluteWealth.com's team of financial experts.
Austin, TX (PRWEB) February 22, 2013
The most recent market update video from Absolute Wealth contributor Hubert Senters has been uploaded and published to the financial information company's website. The video shares intel on spotting a trend in gold, and how to determine its movement.
"Right now gold is starting to get beaten down pretty good," Senters said. "So, I want to show you a couple of things that you can look at to kind of let you know when this is going to happen."
Videos like this are created daily by AbsoluteWealth.com's team of financial experts. It is part of the company's continuing efforts to provide up-to-date content that investors can trust. With a newly re-designed website and an anticipation of more products and services to be offered in the near future, Absolute Wealth is devoting even more time and effort towards becoming the go-to source for financial analysis and information.
Viewers can follow along with Senters as he browses through the stock numbers and data charts, and visually see the very movements and patterns he is talking about.
Hubert Senters is a professional day trader and successful entrepreneur. He had an unusual start to his professional investment career, and the story of his introduction is included as part of the "Trash Can Trader" program. Senters launched TradetheMarkets.com with fellow Absolute Wealth contributor John Carter, and has garnered a loyal trading community following with his keen sense of the trading markets, his frank teaching style, and his willingness to help others learn from him.
Comments and opinion sharing is encouraged through all of Absolute Wealth's social media outlets, including Facebook, YouTube, and Twitter pages. Whether they agree with the content or not, Absolute Wealth knows that thoughtful and insightful comments always add to the conversation.
Absolute Wealth is an expert team of real investors and advisors devoted to identifying winning strategies for exceptional returns. Members subscribe to the company's Independent Wealth Alliance for professional investment analysis and recommendations on the latest market trends and progressions. For more information and subscription instructions, visit AbsoluteWealth.com.