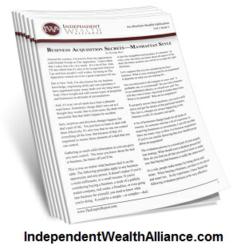 The Baltic Exchange Dry Index is considered a leading indicator for economic activity.
Austin, TX. (PRWEB) March 06, 2012
"Why The Stock Market Is Ready For A Breather" by John Frederick Carter has just been published in the Absolute Wealth newsletter, stating that the Transport Index is in trouble. The Transport Index is the most important leading indicator for the stock market, the Absolute Wealth newsletter reveals, as well as the economy.
Mentioning the Transportation Index to people and telling them it's important, the newsletter explains, they usually smile and raise their eyebrows, stating that the railroads can't be important in this age of iPhones and Facebook. The newsletter reveals that when the transportation index was first created by Charles Dow in 1884, the index contained 90% railroads, and a steamship company, however, times have changed and so has the index.
Today the newsletter reports, railroads make up just 18% of the index, and the index also includes other key companies that are the lifeblood of the economy, airlines for one. If the airlines are doing well, the newsletter states, it is a sign that business and consumers have money to spend. Trucking is also packed in there the newsletter adds, if the economy is humming along, then Walmart and McDonalds are bringing in more goods and more beef over open highways to be sold to eager consumers. Delivery services like FedEx and UPS are also in this index, the Absolute Wealth newsletter explains, because people are always receiving packages delivered by UPS.
Last but not least, the newsletter states, there is marine transportation, which involves huge container ships transporting goods around the world. Crude oil is being transported the newsletter reveals, as well as products from China and other countries that are imported into the U.S. to sell to eager consumers as well as businesses. In fact, the Baltic Exchange Dry Index is considered a leading indicator for economic activity, the newsletter reports, because it measures shipping freight rates. In early 2008 the newsletter states, these rates started to plunge, telling people loud and clear that economic upheaval is here.
In other words the newsletter explains, the transport index is not only relevant, it is also the first to react to any slowdown (or pick up) in economic activity. It's an incredibly relevant, and profitable heads up as to what is really going on in the world, the Absolute Wealth newsletter advises, before it hits the headlines.
###