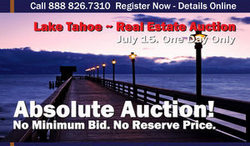 This is the 'First Ever' Absolute Auction or real estate to be held in Lake Tahoe's historic Glenbrook community.
Zephyr Cove, NV (PRWEB) June 22, 2010
Will Lake Tahoe's first ever Absolute Auction being held July 15th in the historic Glenbrook Community be enough to draw the likes of Charles Barkley, Ray Romano, Troy Aikman, Dan Quayle and other celebs? Considering a 7000 sq ft classic Tahoe Lodge will be sold to the highest bidder regardless of price, this no-reserve auction may offer a tasty enough prize to draw them away from the Edgewood Tahoe's Celebrity Golf tournament.
Exclusively Auctions has successfully sold by auction luxury homes similar to this Nevada jewel throughout America. The Glenbrook Community boasts a private 1/2-mile sandy beach, championship tennis courts, and it's own 9-hole golf course. Current owners hail from the gaming industry, the arts, food manufacturing, beverage distribution and tech scions. For the first time ever, a buyer will actually hold their bid paddle in the air and name their own price.
Local Lake Tahoe real estate broker, Elaine Casteleyn, who is regularly cited by the UK's Financial Times says, "Real Estate Auctions like this happen so rarely. Due to these financial times, someone is going to steal this magnificent home."
Aside from Lake Tahoe being a sportsman's paradise, this luxury property is situated in the tax-free state of NV. A Koi pond entry, a Kohler environmental sun room, a solarium, a heated driveway, and more appoint this 4-bedroom, 6-bath mountain retreat. It's said that the people that buy in Glenbrook, Lake Tahoe, wouldn't live anywhere else around this 80 mile lake resort. And now, considering this absolute auction opportunity - most everyone would agree.
Registration for the upcoming Absolute Auction is pretty simple. Place a $25,000 refundable deposit with any Lake Tahoe broker and be ready to close your bid 30 days after the July 15th live auction. The question is, "Will you be bidding against Charles Barkley?"
See you at the Absolute Auction.
###