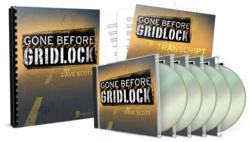 Having a system and a plan is the only true way to be prepared to evacuate, and the "Gone Before Gridlock" program will award people that power and peace of mind.
Austin, TX (PRWEB) September 05, 2012
Anyone can avoid evacuation problems should a disaster strike their area by following the advice of an experienced survivalist, said the most recent article from AbsoluteRights.com. Escaping harm involves a valuable skill and knowledge set; thankfully, that's exactly what "Gone Before Gridlock" provides.
Absolute Rights and expert contributor Dave Scott have teamed up to offer the preeminent resource on safe and effective evacuation measures, and are showing people how to be prepared for leaving at a moment's notice.
"Gone Before Gridlock" consists of a manual and five training modules that give in-depth instructions and advice when preparing an evacuation plan. The program also includes a gas calculator, a go-bag (or emergency evacuation kit) list, and a bonus mapping tool and choke point avoider.
All the content is kept in the members-only "Gone Before Gridlock" website, and subscribers to the program can access all the content with ease.
Why is it so important to have an evacuation plan and prepare loved ones for a quick escape? Because harm is inevitable with most major disasters whether they are natural or man-made. As a community, as a nation, and as a planet, we are approaching desperate times that need to be at the forefront of people's minds.
A recent front page CNN.com piece claimed that a food crisis could be in Earth's near future. It started with a somber note: "Prediction: 2013 will be a year of serious global crisis. That crisis is predictable, and in fact has already begun."
"Will 2013 bring us social turmoil in Brazil, strikes in China or revolution in Pakistan?" asked the article. "The answer can probably be read in the price indexes of the commodities exchanges -- and it is anything but reassuring."
Should minor food skirmishes turn into serious problems, evacuation may be the only choice if society begins to crumble. Leaving major cities and inhabiting less-populated areas is one way to avoid the panic, stress, and possibly even violence that desperation leads people to.
Absolute Rights informs patriotic Americans on their given rights, plus helps protect those rights from government or disaster intrusion. Most importantly, it prides itself on alerting people when their rights are being threatened, creating an active and informed community. For more information, be sure to visit AbsoluteRights.com.
With the release of the "Gone Before Gridlock" training program, the people who make the smart choice of preparedness will have an expert resource to guide the way. Having a system and a plan is the only true way to be prepared to evacuate, and the program will award people that power and peace of mind.