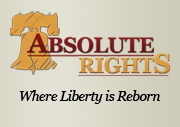 Absolute Rights informs patriotic Americans on their given rights, plus helps protect those rights from government or disaster intrusion.
Austin, TX (PRWEB) September 03, 2012
Absolute Rights, the leader in freedom of rights information, has published its latest semiweekly Newsletter. The Newsletter is filled with a variety of pertinent reports and educational content, and is meant to help Americans protect their rights and stay up-to-date on news that affects them the most.
Survival expert Dr. Bones enlightened the Newsletter audience with tips on how to prepare for a hurricane, especially important in the aftermath of Hurricane Isaac. As the hurricane season extends into the next several weeks, ensuring a safe and prepared plan is in effect is the only way to guarantee a better shot at survival. Dr. Bones is a new Absolute Rights contributor, and is sharing his wisdom and experience with readers about disaster preparation and survival.
Crisis Ops, the survival-centered article of the Newsletter, informed people of the value in seeds and food growing.
The Global Watch portion of the Newsletter talked about the responsibility held regarding world goals and regulations. The article asks who exactly should set the world's goals, and how should they go about it? The explanations could be endless.
"Some people say it's the United Nations, some say it's religion, some say it's the celebrities that speak for us, and some even say that there is an underground organization that is running everything around the world…" wrote Tim Young, Managing Editor of Absolute Rights.
Finally, the Contender's Corner section investigates the evolving definition of the word 'conservative,' and tries to get to the bottom of its true meaning. Misconceptions have warped the original America ideals of the conservative movement, and Young asks if it could be the exact opposite of the current administration's agenda.
The Absolute Rights Newsletter is sent to thousands of Absolute Rights email subscribers as part of the never-ending effort to bring relevant and captivating content directly to readers. Newsletters are distributed via email and the articles then appear online at AbsoluteRights.com.
Tim Young, a native of Baltimore, Maryland, joined Absolute Rights in the spring of 2012 and brought his brutally honest opinions with him. He has been consulted as an expert on campaign, social security, health care and labor policies. A professional stand-up comic, Young combines his political and comedic background to add a captivating voice to Absolute Rights' mission of rights protection.
Absolute Rights informs patriotic Americans on their given rights, plus helps protect those rights from government or disaster intrusion. Most importantly, it prides itself on alerting people when their rights are being threatened, creating an active and informed community. For more information, be sure to visit AbsoluteRights.com.