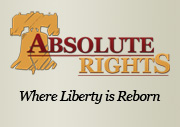 Absolute Rights Newsletters are distributed via email and the articles then appear online at AbsoluteRights.com.
Austin, TX (PRWEB) September 14, 2012
Managing Editor Tim Young and the Absolute Rights team has published its semiweekly Newsletter, and as always it is filled with current event information and intelligent insight on politics, survival, and civil rights.
Young wrote the main article, and in it he asks if America is a better place eleven years after the September 11 attacks.
"What direction have we taken as a country? Have we gone too far with security and privacy issues?" asked Young in the article. "These are questions that we really need to be asking ourselves."
The changes in the US since 9/11 are discussed, and Young makes the point that things like security and privacy have shifted so much. It's hard to draw a line, says Young, because people should have the right to live a free life without government invasion.
"This is something that has always been predicted throughout our political realm. James Madison in his Federalist 51 predicted that the greatest check on government was man's ambition counteracting other man's ambitions," Young wrote. "Here, it's our fears counteracting our fears. We are watching ourselves more than ever, and guarding for what evil may come."
Crisis Ops, the section of the Newsletter that focuses on survival awareness, highlighted what the article called one of the most important parts of preparing for a crisis: always be learning. It's critical to absorb every piece of information possible, said the article, and use technology to access it.
The Global Watch portion of the Newsletter told the story of North and South Korea's partnership in disaster relief, which represents one of the most generous yet shocking gestures in world history.
After generations of feuding, South Korea sent disaster aid to their neighbors and North Korea accepted, said the article. Although still legally at war with one another, the Korean countries have shown they can coexist and put civilian safety above all else.
In the Contender's Corner Newsletter section, Young comments on what he calls "The worst President of our lifetime." People can learn a whole lot more about Young's opinion on Barack Obama in his new book, "50 Shades of Obama: Here's a Hint, They're All Lies."
The Absolute Rights Newsletter is sent to thousands of Absolute Rights email subscribers as part of the never-ending effort to bring relevant and captivating content directly to readers. Newsletters are distributed via email and the articles then appear online at AbsoluteRights.com.
Tim Young, a native of Baltimore, Maryland, joined Absolute Rights in the spring of 2012 and brought his brutally honest opinions with him. He has been consulted as an expert on campaign, social security, health care and labor policies. A professional stand-up comic, Young combines his political and comedic background to add a captivating voice to Absolute Rights' mission of rights protection.
Absolute Rights informs patriotic Americans on their given rights, plus helps protect those rights from government or disaster intrusion. Most importantly, it prides itself on alerting people when their rights are being threatened, creating an active and informed community. For more information, be sure to visit AbsoluteRights.com.