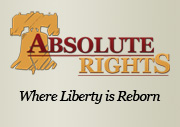 Absolute Rights informs patriotic Americans on their given rights, plus helps protect those rights from government or disaster intrusion.
Austin, TX (PRWEB) September 09, 2012
Absolute Rights has published Issue number 77 of their informative Newsletter, and it is providing readers with the news and issues that are making a difference in today's political and rights protection world.
The main article was written by Absolute Rights contributor Wallace Streete, who commented on the recent CNN story of a food crisis that is predicted to hit the US hard in the near future. Food crops are suffering, and developing countries are already suffering from lack of supplies, according to the article.
Since the food supply system is so vulnerable, the article said anything from gas prices to availability can affect the way folks get their groceries. Streete goes on to explain ways people can protect themselves from being caught off guard, and advises several steps towards food crisis preparation.
"I wish there was a nicer way to put it, but Food Crisis is coming," Streete wrote. "You need to be ready for it and I hope that you can get your acts together before something terrible happens."
In the Contender's Corner, the Managing Editor of Absolute Rights, Tim Young, explains his thoughts on President Obama's failing popularity. A move of venue for Obama's Democratic Convention speech smelled fishy to Young, who wrote that "The Democrats very quickly announced that it was bad weather that caused them to move the speech, not noting anything about their struggle to fill seats in the stadium."
The Crisis Ops section of the Newsletter covered the classic debate of staying or leaving in the event of a disaster.
"Acting in crisis is something that will change as the moments occur. Things could happen on the fly and you will need to be ready for everything and anything," said the article. "So it's important to be prepared with many different plans with many different options and approaches in order to ensure the best for yourself when crisis strikes."
In Global Watch, Young wrote about the hurricane that is set to hit Bermuda, where citizens are either evacuating in droves or awaiting their fate and staying put. It puts a new perspective on weather disasters when a tiny island is threatened to be completely wiped away, says Young.
The Absolute Rights Newsletter is sent to thousands of Absolute Rights email subscribers as part of the never-ending effort to bring relevant and captivating content directly to readers. Newsletters are distributed via email and the articles then appear online at AbsoluteRights.com.
Tim Young, a native of Baltimore, Maryland, joined Absolute Rights in the spring of 2012 and brought his brutally honest opinions with him. He has been consulted as an expert on campaign, social security, health care and labor policies. A professional stand-up comic, Young combines his political and comedic background to add a captivating voice to Absolute Rights' mission of rights protection.
Absolute Rights informs patriotic Americans on their given rights, plus helps protect those rights from government or disaster intrusion. Most importantly, it prides itself on alerting people when their rights are being threatened, creating an active and informed community. For more information, be sure to visit AbsoluteRights.com.