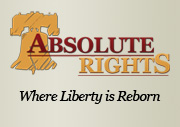 Learn all the information available before making any political decisions, says Young, and as always, "Be smarter than they think you are."
Austin, TX (PRWEB) September 15, 2012
Absolute Rights, the leading political and freedom protection information website, recently released an article on August's disappointing unemployment numbers.
Written by Managing Editor Tim Young, the article dug deeper into the numbers to find the possible sources of the problem, and how dire the situation truly is.
"Unemployment fell from 8.3% to 8.1%," wrote Young, "but this was because 368,000 more Americans gave up looking for work in August…On top of that, 41,000 less jobs were created in June and July than was originally estimated by the government."
Numbers like these, says Young, don't always tell the complete picture. Americans should be, as Young puts it, "smarter than they think you are."
"39,000 jobs were cut by federal, state, and local governments due to them being short of cash," Young said in the article. "Of the jobs remaining in our economy, hourly pay fell. This country is in deep trouble and we just aren't recognizing it."
A frequent critic of the current administration, Young asks readers if they believe the country's direction is the right way to be headed.
Tim Young, a native of Baltimore, Maryland, joined Absolute Rights in the spring of 2012 and brought his brutally honest opinions with him. He has been consulted as an expert on campaign, social security, health care and labor policies. A professional stand-up comic, Young combines his political and comedic background to add a captivating voice to Absolute Rights' mission of rights protection.
Be sure to follow Tim on his various social media channels, including Facebook, Twitter, and Absolute Rights' YouTube Channel. Learn all the information available before making any political decisions, says Young, and as always, "Be smarter than they think you are."
Absolute Rights informs patriotic Americans on their given rights, plus helps protect those rights from government or disaster intrusion. Most importantly, it prides itself on alerting people when their rights are being threatened, creating an active and informed community. For more information, be sure to visit AbsoluteRights.com.