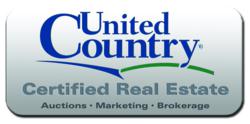 All of these properties will be sold to the highest bidders, so when the gavel falls, bidders will walk away owning property at the price of their choosing.
Winder, GA (PRWEB) April 26, 2011
A listing of 240 bank foreclosures properties has been assigned to United Country Certified Real Estate for absolute real estate auctions in the Atlanta and Athens area of northeast Georgia. The Certified real estate firm specializes in auctions, marketing and brokerage and is led by Myers Jackson, CAI, a licensed Georgia real estate broker and land auctioneer. This sale is being held in cooperation with Georgia auctioneer and broker Tim Hill of United Country Community Partners Realty and Auction. The real estate offered in this auction spans across 8 northeast Georgia counties and includes commercial development land and office buildings, residential land lots and subdivisions and lifestyle horse farm land. Online bidding for this is open now at OnlineOnlyAuctions.com. Bids for this absolute real estate auction will be accepted from now until live simulcast events close June 8 through 11.
"This auction represents an excellent opportunity for buyers, knowing that the property will sell regardless of the final price" said Myers Jackson. "All of these properties will be sold to the highest bidders, so when the gavel falls, bidders will walk away owning property at the price of their choosing."
Bank foreclosure listings for these absolute real estate auctions are located throughout northeast Georgia in Oglethorpe County, Walton County, Jackson County, Barrow County, Oconee County and Clarke County. Altogether, there are over 100 residential real estate land lots, 50 commercial development lots, 2 office buildings in professional parks and a 119 acre lifestyle horse farm.
"We believe that the multi-property event is one of the best ways to bring properties to the public in a coordinated manner. This format allows qualified buyers the opportunity to see a variety of properties and determine their current fair market values through the bidding process. There's never been a better time for buyers to invest in their futures," said auctioneer, Myers Jackson, auctioneer and broker of United Country – Certified Real Estate, who will be conducting the auctions in cooperation with United Country – Community Partners Realty & Auction.
Complete bank foreclosure listings information and maps are available from United Country - Certified Real Estate Auctions at 800-711-9175 or visiting CertifiedBankOwned.com.
United Country Real Estate is the largest fully integrated network of conventional and auction real estate professionals in the United States. Based in Kansas City, Mo., the company has been an innovator in real estate marketing since 1925. United Country supports nearly 600 offices across the U.S., Costa Rica, Panama and the resort areas of Mexico, with a unique, comprehensive marketing program that includes one of the largest portfolios of property marketing web sites (more than 1,400 separate sites), seven proprietary real estate catalogs with a cumulative distribution of 1.5 million readers, an extensive, current buyer database and national advertising of properties that reaches more than 90 million homes per week. United Country has recently been recognized by AllBusiness.com, The Land Report, Entrepreneur and The Wall Street Journal as one of the top U.S. real estate companies. United Country Certified Real Estate: Auctions, Marketing and Brokerage Firm, conducts Florida real estate auctions and Georgia land auctions to include plantations, farms & acreage, recreational land, timberland, hunting land, waterfront & coastal property, luxury homes, commercial, industrial & development land and lots.
###