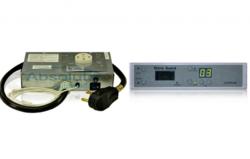 Most residential fires start in the kitchen and are caused by unattended cooking.
Casco, MI (PRWEB) August 16, 2012
Cooking has been the leading cause of house fires since 1990. Absolute Automation and StoveGuard hope to help change that statistic with this revolutionary alarm and home safety system.
The Stove Guard is a system combining a motion sensor, programmable timer and shut off device (either a valve for the gas line or an electrical outlet which can have the power automatically turned off to it). The different kits include the same motion sensor and programmable timer but utilize different shutoff technologies depending on the type of energy (gas or electric) the stove or cook top the system is being installed to monitor utilizes.
Most residential fires start in the kitchen, with most of those being caused by what is termed, "unattended cooking". The Stove Guard monitors the kitchen area with the built in motion sensor and every time the sensor STOPS detecting motion it initiates a countdown using the included timer. If the timer hits 0 before motion is detected again the stove is instantly shut off, either by activating a shutoff valve on the gas line or simply turning off power to the stove. All of the necessary hardware for the system is included with each complete system, however it is recommended, and sometimes required, to have a licensed gas fitter install the gas line valves. The electric units can usually be easily installed by homeowners.
Absolute Automation has been distributing different alarm and monitoring systems for caretakers since 1995. With almost two decades in the alarm and automation field the company has been a provider of everything from wireless intercoms to panic buttons to door alarms for monitoring the elderly. Distributing the complete StoveGuard line of products will add to the services and products they can offer the care taker community.