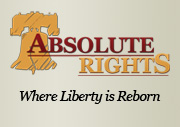 Levy shares tips, advice, resources, strategies, and processes for preparation financially, physically, and mentally.
Austin, TX (PRWEB) July 26, 2012
Absolute Rights is proud to announce its newest contributing writer, Gaye Levy, who wrote her inaugural AbsoluteRights.com article on her idea of the most important survival skill people often forget.
Levy brings her feisty and knowledgeable perspective to the world of emergency preparedness through her own blog Backdoor Survival, where she shares her angst and concern for the world's crumbling economy while journeying through the prepper world and working towards total emergency or disaster preparedness.
Levy shares tips, advice, resources, strategies, and processes for preparation financially, physically, and mentally.
Readers can subscribe to Backdoor Survival's RSS feed and receive the free e-newsletter. More information can be found on the blog's webpage.
Based on a recent interview meant to help Absolute Rights audiences get to know Levy better, she is clearly a motivated and smart novice in the preparation world. She hopes to grow her skill set and knowledge base as much as possible.
"Oh my gosh, I am always learning something new. This comes either from my own research, visits to other websites in the prepping community, or from my readers," said Levy in the interview.
When asked about the most important steps she believes preppers can make, Levy said, "Acquiring a two week (or longer) supply of food, the means to store and purify water, first aid supplies and items for self-defense rank right up there at the top of my list."
"I hope to continue to do what I do for a long, long time," Levy said. "Just when I think I have written everything there is to write about prepping, I learn about something new or come up with a personal need that warrants a shift in my prepping strategy.
Levy joins the expert team of writers and contributors at Absolute Rights who, led by Managing Editor Tim Young, work tirelessly to provide audiences with the most up-to-date and relevant information on survival preparation, political news, and rights violations that threaten the American values of freedom and liberty.
Audiences that absorb Absolute Rights' content will stay continually updated and informed by their broad panel of experts on subject matter ranging from legal challenges to survival techniques, from macro-economics to the best way to buy and sell gold, and everything in between.
Absolute Rights informs patriotic Americans on their given rights, plus helps protect those rights from government or disaster intrusion. Most importantly, it prides itself on alerting people when their rights are being threatened, creating an active and informed community. For more information, be sure to visit AbsoluteRights.com.
New and exciting things are happening at Absolute Rights, and the addition of Gaye Levy as a contributing writer qualifies as both. Stay tuned in to all of the channels of Absolute Rights content, including facebook.com/AbsoluteRights, youtube.com/absolrights, and twitter.com/AbsoluteRights.