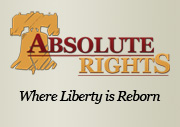 Newsletters are distributed via subscription email and the articles then appear online at AbsoluteRights.com.
Austin, TX (PRWEB) July 29, 2012
The semiweekly Newsletter from Absolute Rights has been published, and it is sharing the kind of information the company is known for: useful, thought-provoking, and actionable news and advice that defends people from rights and freedom violations.
The main article is written by new Absolute Rights contributor Gaye Levy, and in it she addresses the main concerns surrounding a modern economic breakdown.
Contender's Corner investigates the role of major Electoral College states, and how polls may not tell the entire story.
In the Crisis Ops portion, 'Above Average' Joe shares one of the most common hiding places in a home, that no one would think of as a place to store survival supplies.
Absolute Rights Managing Editor Tim Young wrote the Global Watch section of the Newsletter, and touched on Syria's continued violence and warfare. "Similar to our own Civil War from nearly a century and a half ago," Young said in the article, "the Syrian battles are pitting brother against brother. The rebel militias are comprised of defectors from the Syrian army, who bring with them the weapons and training necessary to fight off their former compatriots."
The Absolute Rights Newsletter is sent to thousands of Absolute Rights email subscribers as part of the never-ending effort to bring relevant and captivating content directly to readers. Newsletters are distributed via email and the articles then appear online at AbsoluteRights.com.
Tim Young, a native of Baltimore, Maryland, joined Absolute Rights in the spring of 2012 and brought his brutally honest opinions with him. He has been consulted as an expert on campaign, social security, health care and labor policies. A professional stand-up comic, Young combines his political and comedic background to add a captivating voice to Absolute Rights' mission of rights protection.
Absolute Rights informs patriotic Americans on their given rights, plus helps protect those rights from government or disaster intrusion. Most importantly, it prides itself on alerting people when their rights are being threatened, creating an active and informed community. For more information, be sure to visit AbsoluteRights.com.