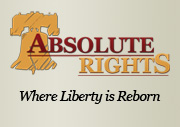 The semiweekly Newsletter from Absolute Rights was released Tuesday, and included vital information on rights protection and survival topics.
Austin, TX (PRWEB) August 09, 2012
The semiweekly Newsletter from Absolute Rights was released Tuesday, and included vital information on rights protection and survival topics.
The main article investigated the affect public shootings are having on the freedom to bear arms. Tim Young, Managing Editor at Absolute Rights, asks the complex questions involved in varying news coverage of different gun-related incidents. On one hand people die due to violence and on the other gun-carrying people are able to defend themselves, like the jewelry store owner from Orange County mentioned by Young.
Nobody knew about the jewelry store owner, said Young, and it only introduced a cause for concern over the use of guns yet again.
"It's a shame that the shooting deaths have happened now less than a month apart," Young said, "but on the same hand, we shouldn't be pushing heroes to the back pages of the paper."
In the Crisis Ops section of the Newsletter, "Above Average" Joe detailed what should be kept in an everyday survival pack. It can be as small as a wallet and kept in a pocket at all times, said Joe, and filled with numerous items that can be of great use should a survival situation present itself.
The Global Watch portion highlighted a recent discovery of an al Qaeda cell in Spain. The members of the cell may surprise some, according to the article, and it stresses the importance of paying attention to world events to maintain a sense of preparation.
Finally, in Contender's Corner, Young looks into the recent legislation passed by President Obama to restrict military funeral protests. The ruling, as Young explains, involves a tricky issue. While he argues that respect should always be given to the deceased, especially those who served our country, America's First Amendment Rights are being limited, setting the stage for further restrictions in the future.
The Absolute Rights Newsletter is sent to thousands of Absolute Rights email subscribers as part of the never-ending effort to bring relevant and captivating content directly to readers. Newsletters are distributed via email and the articles then appear online at AbsoluteRights.com.
Tim Young, a native of Baltimore, Maryland, joined Absolute Rights in the spring of 2012 and brought his brutally honest opinions with him. He has been consulted as an expert on campaign, social security, health care and labor policies. A professional stand-up comic, Young combines his political and comedic background to add a captivating voice to Absolute Rights' mission of rights protection.
Absolute Rights informs patriotic Americans on their given rights, plus helps protect those rights from government or disaster intrusion. Most importantly, it prides itself on alerting people when their rights are being threatened, creating an active and informed community. For more information, be sure to visit AbsoluteRights.com.