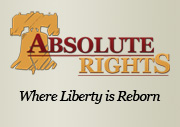 With President Barack Obama in Austin, Texas for fundraising, Young and the Absolute Rights team hit the streets.
Austin, TX (PRWEB) July 23, 2012
A recent visit from the President of the United States produced a new video from Absolute Rights, and it revisits the Occupy movement as the election campaigns build steam towards November.
Tim Young, Managing Editor at Absolute Rights, could not let an opportunity like this past Tuesday's pass him by. With President Barack Obama in Austin, Texas for fundraising, Young and the Absolute Rights team hit the streets to talk with the folks who were moved to do something to get noticed and voice their opinion while the President was in their community.
Unfortunately for the movement, Young said that the Occupy idea has been tainted and damaged. "They took what could have been a good idea and really screwed it up with misrepresentation and complete disorganization," he said in the article accompanying the video.
Young compares the Occupy and Tea Party movements, labeling neither as the true answer to America's problems, but valuing the benefits either side offered and worked towards.
"I'm willing to bet that most of you agree with both the Tea Party and the Occupy people at the beginning of their argument," Young said, "but the solution is what is tearing us apart."
The team at Absolute Rights works tirelessly to provide the information and insight needed for Americans to protect their civil rights and freedoms, and wants to remedy the lack of knowledge that pours through our society. Audiences that absorb Absolute Rights' content will stay continually updated and informed by their broad panel of experts on subject matter ranging from legal challenges to survival techniques, from macro-economics to the best way to buy and sell gold, and everything in between.
Tim Young, a native of Baltimore, Maryland, joined Absolute Rights in the spring of 2012 and brought his brutally honest opinions with him. He has been consulted as an expert on campaign, social security, health care and labor policies. A professional stand-up comic, Young combines his political and comedic background to add a captivating voice to Absolute Rights' mission of rights protection.
Absolute Rights informs patriotic Americans on their given rights, plus helps protect those rights from government or disaster intrusion. Most importantly, it prides itself on alerting people when their rights are being threatened, creating an active and informed community. For more information, be sure to visit AbsoluteRights.com.