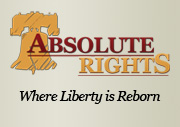 Being prepared with an emergency food supply will allow mind to rest and a feeling of readiness to take over.
Austin, TX (PRWEB) August 11, 2012
"When the Food Runs Out: How to Choose and Store the Goods You'll Need in a Crisis Situation" is the latest Special Report from Absolute Rights. According to a recent article from AbsoluteRights.com, it is advising people on the proper way to plan and prepare an emergency food supply to keep them well-nourished and ready for a disappearance of many food staples.
The article said that because the world is already witnessing a drastic drop in available food supplies, and food riots are occurring more frequently than ever. Third World countries that are dependent on imports to get the food they need to survive are resorting to desperation and violence based around the lack of supplies being sent their way, said the article.
There's a high price for the stress and anxiety these crises can cause, said the article. Being prepared with an emergency food supply will allow mind to rest and a feeling of readiness to take over. A well-stocked food supply can give people peace of mind, knowing they'll be able to support their families and loved ones when things take a turn for the worse, the article said.
"When the Food Runs Out" contains expert insider knowledge on the items and amounts you should have in a food supply, and how to avoid costly mistakes that could make things exponentially more difficult. Survival situations are all about maintaining a steady mind and a sharp wit, said the article, which would be impossible if food was unavailable.
The Special Report provides useful lists and suggestions on what constitutes a good food supply. The article said it uses strategic plans to maximize the nutritional value and worthiness of each and every piece of the puzzle. Plus, it advises of the essential non-food supplies that are needed to make a food supply complete.
"When the Food Runs Out" won't let people get caught off-guard, said the article, as long as the directions within it are followed closely. Planning a food supply and maintaining it properly will be one of the greatest steps towards disaster preparedness that anyone could ever take, according to the piece on Absolute Rights' website.
Absolute Rights informs patriotic Americans on their given rights, plus helps protect those rights from government or disaster intrusion. Most importantly, it prides itself on alerting people when their rights are being threatened, creating an active and informed community. For more information, be sure to visit AbsoluteRights.com.
There will be no time to worry about where to get food when an emergency hits, so the article said knowing there's a supply safely stored away will give people a great sense of reassurance. Accessing "When the Food Runs Out" is one way to award that assurance.