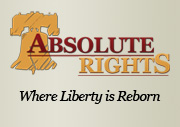 "When the Food Runs Out" will help anyone get started creating a worthy collection of food, water, and other essentials easily and inexpensively.
Austin, TX (PRWEB) August 13, 2012
When the food runs out, the latest article from Absolute Rights said that there will be nowhere else to turn accept towards personal preparation done in advance. Based on recent developments in the world's food supply, now is the perfect time to start an emergency stockpile of long lasting and stored food.
Absolute Rights is providing information on the best course of action in their new Special Report, "When the Food Runs Out: How to Choose and Store the Goods You'll Need in a Crisis Situation." It gives the essential blueprint needed to be prepared and a tangible action plan to make sure people are truly stocked up with the essentials and ready for anything.
Unfortunately, the article said a looming food crisis is already on the horizon. Weather patterns have produced some of the harshest crop-growing conditions this season, and the results are creating a dangerous domino effect on the food supply.
The June drought was as bad as this country has seen since 1956, said the article, and the last twelve months have been the hottest on record.
An article from Bloomberg addressed the critical situation involving the current drought and ruined crops. Four of the biggest food sources (corn, rice, soybeans, and wheat) are seeing drops to a four-year low in supply, it said.
"Stockpiles of the biggest crops will decline for a third year as drought parches fields across three continents, raising food-import costs already forecast by the United Nations to reach a near-record $1.24 trillion," said the Bloomberg piece.
That means countries that are import-reliant for their food supplies are suffering greatly, the article said. So much so, that "More than 60 food riots erupted worldwide from 2007 to 2009 as prices surged," said Bloomberg using U.S. State Department estimates. "Production will need to expand 70 percent by 2050 as 2 billion people are added to the population, according to the UN."
These impending scenarios will prove the value of a well-stock emergency food supply, said the AbsoluteRights.com article. "When the Food Runs Out" will help anyone get started creating a worthy collection of food, water, and other essentials easily and inexpensively.
"When the Food Runs Out" was created as an informational and educational Special Report, and was devised to be used easily and instantly to get people prepared. Current news is forewarning of the impending disasters, and the article said there's no better way to be ready for the worst than to significantly prepare for it.
Absolute Rights informs patriotic Americans on their given rights, plus helps protect those rights from government or disaster intrusion. Most importantly, it prides itself on alerting people when their rights are being threatened, creating an active and informed community. For more information, be sure to visit AbsoluteRights.com.