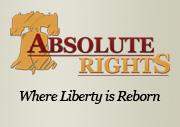 Learn all the information available before making any political decisions, says Young, and as always, "Be smarter than they think you are."
Austin, TX (PRWEB) August 01, 2012
"50 Shades of Romney: Here's a Hint, They're All White" is the brand new e-book now available free for Amazon's Kindle from the Managing Editor at Absolute Rights, Tim Young.
The Kindle book is filled with entertaining and thought-provoking information regarding Mitt Romney and his back-and-forth decision making since he became a politician. Young asks, through his revealing and poignant writing style, if this is truly the man Americans want at the head of their Federal Government.
"50 Shades of Romney" will be offered completely free of charge for a limited time only. Political and humor junkies alike will find the hilarious account of Romney's "on the record" statements.
Already the book is ranked number one in Amazon Kindle's Political section, and number one in the Political Humor section as well.
Young pulls no punches in his blatant attempt at portraying Mitt Romney as perhaps the worst Republican candidate for President that the political party could possibly nominate.
As a professional comedian and political pundit, Young adds his intelligent and hilarious voice to an all-too-common occurrence he calls "political flip flopping."
Young said that his book is what "both Democrats and apathetic Republicans have been waiting for." Whether it sways a decision or not, Young hopes the book will open people's eyes to the frequent backsliding of today's major political figures.
Tim Young, a native of Baltimore, Maryland, has been consulted as an expert on campaign, social security, health care and labor policies. A professional stand-up comic, Young combines his political and comedic background to add a captivating voice to Absolute Rights' mission of rights protection.
Be sure to follow Tim on his various social media channels, including Facebook, Twitter, and Absolute Rights' YouTube Channel. Learn all the information available before making any political decisions, says Young, and as always, "Be smarter than they think you are."