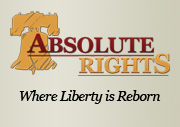 Yet another thing that can't be taken for granted: our reliable and capable countrywide mail service.
Austin, TX (PRWEB) July 20, 2012
The United States Post Office is struggling to makes financial ends meet, and the latest Absolute Rights article by Managing Editor Tim Young examines the situation.
The blog post is titled "The Post Office is Going Under," and in it Young alerts readers to the announcement by the USPS that they will default their health insurance for retirees unless they are granted a huge sum of money to satisfy their needs.
"Most people are saying that the USPS needs an overhaul anyway," said Young. "According to their second quarter numbers, they lost over $3.2 billion dollars. Their third quarter numbers will be reported on August 9, and we can expect them to be even worse."
The article asks and answers the big questions, like "What's killing the USPS?"
The article said that things may be rougher than the department ever realized. Yet another thing that can't be taken for granted: our reliable and capable countrywide mail service.
The team at Absolute Rights works tirelessly to provide the information and insight needed for Americans to protect their civil rights and freedoms, and wants to remedy the lack of knowledge that pours through our society.
Audiences that absorb Absolute Rights' content will stay continually updated and informed by their broad panel of experts on subject matter ranging from legal challenges to survival techniques, from macro-economics to the best way to buy and sell gold, and everything in between.
Tim Young, a native of Baltimore, Maryland, joined Absolute Rights in the spring of 2012 and brought his brutally honest opinions with him. He has been consulted as an expert on campaign, social security, health care and labor policies. A professional stand-up comic, Young combines his political and comedic background to add a captivating voice to Absolute Rights' mission of rights protection.
Absolute Rights informs patriotic Americans on their given rights, plus helps protect those rights from government or disaster intrusion. Most importantly, it prides itself on alerting people when their rights are being threatened, creating an active and informed community. For more information, be sure to visit AbsoluteRights.com.