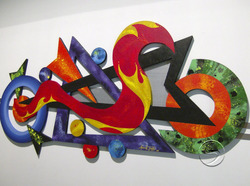 Art sales halved at Sotheby's and Christie's as the recession hits the art market.
Seattle, WA (PRWEB) March 3, 2009
The recession is hitting art lovers just as hard as it is everyone else. As evidenced by recent Sotheby's and Christie's art auction sales figures, even the art world's high rollers are curtailing their spending. Believing that hard economic times should not put a damper on one's passion for art, WallDecorAndHomeAcccents.com has just introduced a new line of abstract wooden wall art.
Hand-cut, -crafted and -painted out of wood, this colorful collection of contemporary art sculptures is priced in a range that even the most frugal art connoisseur will deem affordable. What's more, the new line is entirely handmade in the U.S. by an American artist. As such, each purchase from the collection provides a direct boost to the nation's economy. Penny-pinching art lovers who would like to give their walls an eye-catching makeover can browse Wall Decor and Home Accents' new abstract wall art lineup online at walldecorandhomeaccents.com.
On January 19, 2009, the U.K. "Telegraph" newspaper reported, "Art sales halved at Sotheby's and Christie's as the recession hits the art market." Even though the number of pieces up for sale was cut in half, however, the demand for contemporary art remained strong. One month later, the newspaper printed a second article with this sub-headline: "The contemporary art market may be down, but it is definitely not out."
Therein, the publication observed, "What was remarkable was that, in this time of extreme uncertainty in financial markets, 80 percent of the 462 works that were offered last week were sold. If there was a discernible pattern it was that things were tougher at the top, where buyers and sellers have gone into retreat, than lower down the price range."
Clearly, art lovers are still clamoring for contemporary art. They're just setting their price points lower. Wall Decor and Home Accents' new line of abstract art caters to precisely this segment of the market. Because each piece in the collection is hand-cut and hand-painted in quality acrylic, every one is unique and one-of-a-kind in its shape and color variations. Couple this tendency with the gloss lacquer finish that seals in the artwork's pristine condition for years to come, and the pieces become all that more sought-after and collectable.
Currently selling at half what current market conditions would bear, the new modern wall art collection at Wall Decor and Home Accents boasts vivid hues, metallic accents, contemporary groupings and geometric shapings. The end result is an overall effect that is a genuine delight for the eyes. Each piece in the collection is sure to spark a conversation among family and friends - and even in the tightest recession, no form of entertainment is cheaper than a lively conversation.
For more information on WallDecorAndHomeAccents.com's new line of abstract wooden wall art, contact Krasen Tomov toll-free at (866) 342-0201. To see all the pieces in the new collection, visit Wall Decor and Home Accents online showcase at http://www.walldecorandhomeaccents.com/wooden-wall-art.html.
CONTACT INFORMATION:
Krasen Tomov
5422 B Fauntleroy Way SW
Seattle, WA 98136
(866) 342-0201
info (at) walldecorandhomeaccents (dot) com
http://www.walldecorandhomeaccents.com
###