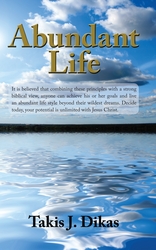 It's like CliffsNotes to better understand the Bible and its profound impact on one's life
Albany, NY (Vocus) November 4, 2010
In the midst of economic hardship, a new book aims to ease pain during troubled times.
Abundant Life author Takis J. Dikas takes a simple and direct approach to help people overcome troubles and economic depression. Addressing such issues as divorce, financial instability, alcoholism and failing health, the devotional guide advocates a practical application of the Bible to combat some of life's most challenging obstacles.
"It's like CliffsNotes to better understand the Bible and its profound impact on one's life," says Dikas.
Applicable to everyday life, Abundant Life aims to provide readers an opportunity to experience spiritual growth and renewal through education and guidance. Motivated by his friends' troubles and inspired after overcoming his own, Dikas seeks to provide readers with inspiration and overall hope.
Easy to read, the book boasts a simple format that is geared toward anyone seeking restoration during a difficult time.
"Problems are meant to be broken down into simple words and solved in very positive, meaningful and spiritual ways," says Dikas. "It will certainly guide you to the right path."
About the author
Takis J. Dikas resides in Albany, N.Y. He is a member of the Life Church and the Elks Lodge, and has an overall interest in mission work and spiritual growth. From a young age, Dikas was interested in the church and involved in community projects. He holds a Bachelor of Science degree from Excelsior College in liberal studies.
###