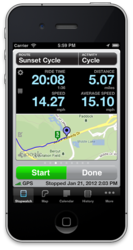 "With version 7.0 of Runmeter, Cyclemeter and Walkmeter, our customers will see even greater benefit from their workout data," said Steve Kusmer, CEO of Abvio.
San Francisco, California (PRWEB) January 26, 2012
iPhone fitness app developer Abvio Inc. will demonstrate, for the first time ever, some of the new features planned for the next major update of Runmeter, Cyclemeter and Walkmeter version 7.0 at Macworld | iWorld 2012, held January 26-28, 2012, at Moscone Center in San Francisco.
The company will also show new app support for the Wahoo Fitness Blue HR Heart Rate Strap(for iPhone 4S) in the Mobile Apps Showcase, booth #818, at Macworld | iWorld. Runmeter, Cyclemeter and Walkmeter are among the first wave of apps to support Wahoo Blue HR, the first fitness-focused device built with Bluetooth Smart Technology.
Show attendees who drop by Abvio's booth for a demo are eligible to enter a contest to win a Wahoo Blue HR device, which provides iPhone 4S users with detailed stats about heart rate, monitor calories burned, and more, as they run, ride, walk, hike, etc.
"With 7.0, our customers will see even greater benefit from their workout data," said Steve Kusmer, CEO of Abvio. "Although we're previewing some key new features at Macworld, there is much more to the update than we are showing right now. We look forward to delivering 7.0 to help our customers exceed their fitness goals."
Completely iPhone-centric, No Web App Required
The apps are completely iPhone-centric, with no web site log-ins required and all workout data made to be easily exportable in multiple formats. They also include popular social sharing features designed to motivate and inspire users to go farther and faster. Text-to-speech technology enables spoken replies from family, friends and coaches once workouts are posted to Twitter, Facebook and dailymile.com.
Due out later this quarter, v7.0 will include a completely updated stopwatch that will display far more information than any other fitness app in the iTunes store. The stopwatch will be completely configurable to show more than 150 different data items, from total mileage to average heart rate for the previous split. Configurable "pages" of information can include stats, graphs, maps, a music player, and more. All of the pages may be viewed with simple swipe gestures, which is ideal for when the iPhone is in a bike case or armband.
The update also includes a new history navigation feature that provides powerful reporting. All cumulative workout information is saved right on the iPhone; no web app is required. History can include summaries of performance by day, week, month or year or by route or activity with the option to drill down to particular workouts and export data for external analysis.
Runmeter, Cyclemeter and Walkmeter are all built from the same foundation, and come preconfigured for running, cycling and walking, respectively. Each app supports all features and activities. All three are available on the Apple iTunes App Store (iTunes link) for $4.99 (US). One voice, for hearing replies from Twitter, Facebook and dailymile.com, is included free. Subsequent voices are $0.99 (US) each via In App Purchase.
About Abvio Inc.
Abvio Inc. is a privately held, award-winning San Francisco-based iPhone application developer devoted entirely to building comprehensive, easy-to-use applications for fitness. Please visit abvio.com to find out more and follow us on Twitter: @runmeter, @cyclemeter and @walkmeter, or on Facebook: facebook.com/runmeter, facebook.com/cyclemeter or facebook.com/walkmeter.
All company and product names are trademarks of their respective owners.