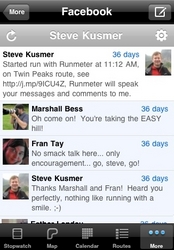 "Customer feedback is extremely important to us, and the latest version of our iPhone fitness apps are the result of requests we're getting for more data export options and the ability to connect with others on Facebook," said Steve Kusmer, co-founder and
San Francisco (PRWEB) April 20, 2010
iPhone fitness application developer Abvio LLC today announced that Runmeter, Cyclemeter and Walkmeter version 3.0 are available for download from the Apple iTunes Store. All three apps for the iPhone (3G/3GS) are already iTunes best sellers, and the first iPhone apps to offer spoken Twitter replies and the use of the earphone remote to start/stop the apps as well as Google Maps sharing.
Version 3.0 raises the bar even higher. New capabilities in 3.0 include posting status updates to Facebook during workouts and hearing status comments from friends, family, and coaches spoken using text-to-speech technology. Email updates can now be automatically sent to family, friends, and coaches to inform them of both route and location, while Google Maps updates allow them to see workout progress and current location via a link provided to them from Facebook, Twitter or email.
In addition, Runmeter, Cyclemeter and Walkmeter version 3.0 offer:

Offline Mode to avoid data roaming charges and minimize battery usage because map downloads, Twitter, Facebook and email updates will not occur
CSV Export to allow graphing and data analysis of workouts using spreadsheets
Split CSV Export to allow graphing and analysis of split data using spreadsheets
Enhances Personal Training
Liana Lehua, personal trainer and triathlete, believes the new social networking features in version 3.0 are extremely beneficial to her and her clients. By monitoring clients' Twitter and Facebook posts while in training, and providing encouragement in the form of replies, it's almost like running or riding alongside them.
"I love the apps' original Twitter aspect, but adding Facebook to the mix is great and really motivates my clients and their Facebook friends to be more fit and healthy," said Lehua. "I also think the use of Google Maps in the new version is absolutely brilliant! I really like being able to easily share my routes in real-time with friends and clients with such a widely used webapp. The ability to export my ride/run data and maps post-workout so I can see where I can improve and then track those improvements is extremely useful as well."
"Customer feedback is extremely important to us, and the latest version of our iPhone fitness apps are the result of requests we're getting for more data export options and the ability to connect with others on Facebook," said Steve Kusmer, co-founder and CEO of Abvio. "Our customers, now worldwide, have made our apps top selling iPhone health and fitness applications because of industry-leading capabilities, usefulness, and customer support. We're already working on the next wave of capabilities driven by customer feedback, our intense desire to innovate and the new capabilities coming in iPhone OS 4.0."
Runmeter, Cyclemeter and Walkmeter 3.0 are entirely iPhone-centric, require no Web site login or monthly subscription and are completely ad-free. All three apps are available now on the Apple iTunes App Store for $4.99 (US). For a product tour please visit http://www.abvio.com.
About Abvio LLC
Abvio LLC is a privately held, award-winning San Francisco-based iPhone application developer devoted entirely to building comprehensive, easy-to-use iPhone applications for fitness. Please visit http://www.abvio.com to find out more.
All company and product names are trademarks of their respective owners.
###