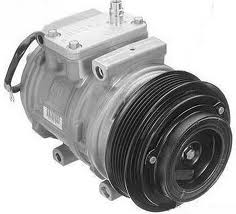 The Auto Pros company now acquires the parts available for air conditioning systems from multiple secondary supply companies.
Nashville, Tennessee (PRWEB) June 13, 2013
Cooling technologies for automobiles have been modified throughout each decade. Many parts are now smaller and receive functionality from digital controls. Vehicle owners requiring AC system repair can now benefit from the inventory offered through the AutoProsUSA.com company online. This company is selling used AC compressor assembly replacements for prices less than automotive dealerships at http://autoprosusa.com/ac-compressors-for-sale.
These essential parts for cooling systems inside vehicles are available for purchase by vehicle owners or others repairing AC systems. Parts matching for specific units can now take place on the company website.
Air conditioning units now come standard in all vehicles in North America. The assemblies that are now used inside vehicles require multiple parts working together without failure to produce desired levels of cool air. The use of computer controls helps to regulate inside temperature based on the amount of airflow into the AC system.
The Auto Pros company now acquires the parts available for air conditioning systems from multiple secondary supply companies. These companies distribute preowned parts for imported and domestic vehicles that are lower in mileage and use. Because these units are removed from gently used engines, the quality of the parts remains higher compared to worn units.
The AutoProsUSA.com company database resources online provided for consumers is helping to takeaway the lengthy research that used to be required when searching for a used component. The launch of the programmed database this year has helped remove the time required to search the system for parts matches.
This company supplies immediate updates more than once per day to keep information retrieved from the database accurate. Prices that are generated through the system are quoted by each supplier individually. The actual delivery of parts price quotes is handled through online display, email or through text messaging.
New methods of auto parts marketing are now part of the company inventory to help inform buyers of inventory currently for sale. Videos like those published at http://www.youtube.com/watch?v=dr0oVo-PvHA are currently used to provide more information to buyers unable to locate data on the company website. This series of videos is one measure undertaken to promote company parts and offer helpful information to buyers at the same time. Ordering information and additional content is now published inside of each video created. This series of streaming auto parts videos is scheduled to continue this year.
Parts suppliers able to distribute secondary auto parts with warranty coverage and freight terms can contact the Auto Pros company for inclusion inside of its database using the following address:
Auto Pros USA
1270 Crabb River Rd.
‪Richmond, TX 77469
(888) 230-1731
(713) 560-7017
About AutoProsUSA.com
The AutoProsUSA.com company networks with secondary parts suppliers in the United States to choose the best providers of used parts for resale to the public. Changes made in 2013 to the company website have produced easier navigation online. The quotations now submitted to consumers online are made possible due to programming upgrades on the AutoProsUSA.com website. Parts and accessories that can be found through the company website come with basic levels of warranty coverage to offer an increase in assurance after an install is completed. Buyers using the company toll-free telephone number have immediate access customer service agents ready to provide instant parts assistance.