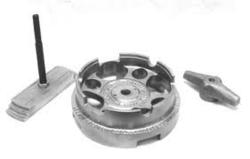 The variety of parts that are offered are eligible for the policy protection now extended for buyers.
Little Rock, Arkansas (PRWEB) May 09, 2013
Air conditioning units are an integral part of automotive manufacturing. The installation of AC units in modern automobiles is one of the included amenities that most automakers provide when vehicles are manufactured. The essential components of these systems is now part of the inventory offerings at the AutoProsUSA.com company. The expansion of the AC compressor clutch inventory online is providing better inventory for parts buyers in the U.S. The current inventory and lower than retail pricing offered can be viewed online at http://autoprosusa.com/ac-compressor-clutch-for-sale.
The heating and cooling that is provided by some automakers depends on a series of mechanical and digital parts. Both import and domestic automakers provide reliable systems that are installed inside pickup trucks, sport utility vehicles and cars. The routine maintenance required to keep these systems in operational condition depends on available parts. The compressor clutch inventory now increased and lowered in price online is one example of the essential parts for AC systems now provided online by the Auto Pros USA company.
The AutoProsUSA.com company website now serves as one of the main points of contact for customers. New updates to the existing pages and the creation of new pages has helped introduce more information to buyers before purchases take place. The new company toll-free number and pricing system online now provide the majority of information that is requested by parts buyers. These two sources of contact are expanding the sources of information provided to customers.
The inclusion of a company warranty policy has helped introduce better parts to buyers online. The lack of protection that is provided by some sellers has created a need for increased warranty terms. The addition of the extended coverage terms is expected to assure buyers purchasing for installation purposes of the quality provided in each part. The variety of parts that are offered are eligible for the policy protection now extended for buyers.
About AutoProsUSA.com
The AutoProsUSA.com company created its discount resource for auto parts online to help the research process for buyers. The updates to the current company inventory are providing more options to find hard to locate part types for import and domestic vehicles. The addition of the easy to use search and pricing system installed on the company website has helped increase the sales volume for parts this year. The AutoProsUSA.com company is now one of few leading companies providing extended warranties past the traditional industry benchmark time frame. The special incentives and programs announced regularly provide reliable purchase options for parts buyers on the Internet.