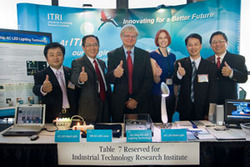 Taiwan (PRWEB) October 30, 2008
The Industrial Technology Research Institute (ITRI) of Taiwan is being honored with the R&D 100 Award in Chicago on October 16 alongside with organizations such as Intel, Dupon, Argonne National Laboratory and NASA. ITRI's on-chip AC LED lighting technology was selected by the R&D Magazine as one of the 2008 innovation of the year. On-chip AC LED for lighting utilizes an innovative AC-DC converter design and hot swap heat dissipation packaging to create next generation lighting technology has now been judged as one of the top 100 innovations of this year.
This year's R&D 100 Awards, which was called the Oscars of invention by the Chicago Tribune, were judged by 20 experts from various scholastic and technological fields in the U.S. American or European companies, or laboratories generally account for the majority of nominees, with Asian companies seldom attend this award; this year, ITRI of Taiwan and Koito and Toyota Motor of Japan are the only Asian recipients.
Mr. Tim Studt, Chairman of R&D 100 Awards, stated that the On-chip AC-LED lighting technology create a new capability within the market place that wasn't there before and will give the world an improvement. He further mentioned that, ''we have large panel of judges, for those who have electronic backgrounds, all seeing this technology has technological significant development.''
Tim Studt said, ''That's why we gave the award to the On-chip AC-LED lighting technology.''
Accepting the award on behalf of ITRI is Deputy General Director Shao-Chung Hsu, who explained that on-chip AC LED lighting technology is a major breakthrough for the future of illumination. Adopting an AC LED for lighting means that the AC-DC converter is no longer necessary, resulting in a 15-30% energy saving in electricity conversion. Together with a hot swapping design and miniaturized characteristics, novel lighting designs are more easily achieved. It is believed that this technology will have huge potential of lighting market within the next five years. Deputy General Director Hsu also mentioned that after the announcement of the R&D 100 Awards nomination, numerous international lighting suppliers have now taken note of this new technology.
ITRI's on-chip AC LED lighting technology was developed from a simple concept of directly using AC power, replacing DC used in traditional LEDs. The micro-diodes used in AC LED chips eliminate the need for a power converter, which also greatly reduces the size and weight of a normal LED lighting fixture. This provides both more flexibity and a longer-lasting life than traditional lighting. At the same time, the hot swapping design offers breakthroughs in packaging limitations of LEDs and reduces thermal contact resistance. The overall thermal resistance between the heat dissipation element and the LED components is able to attain 0.3℃/W or less. In addition, with its unique hot swapping design, much more flexibility is available for designing novel lighting fixtures. This technology has already been adopted for reading lamps and flat panel backlighting systems. AC LEDs increase the convenience of LED lighting sources and bring greater potential, and much further reaching LED applications in general.
In addition to achieving these research breakthroughs, ITRI has also established a valuable patent portfolio, including AC LED's design, processing, packaging and applications. On October 3, 2008, ITRI successfully assembled 19 companies in Taiwan, including Lite-On and EPISTAR, to create an AC LED Application Research Alliance. The goals are to expedite new product development and promote this burgeoning market all together.
Please visit allproducts.com Press Room for further information.
###