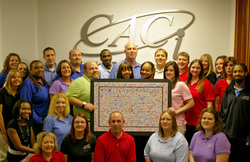 The stories of abusive debt collectors you see on TV, those outrageous tapes you hear, that isn't us
St. Louis, MO (Vocus) May 28, 2009
Roger Weiss is tired being lumped in with the bad guys.
"The stories of abusive debt collectors you see on TV, those outrageous tapes you hear, that isn't us," says Weiss, the Chief Operating Officer of CACi, a St. Louis-based debt collection agency. "In fact, I'd argue that an overwhelming majority of collection agencies all over this country feel the same way. That's not how we do business. And we're tired of having to fight negative stereotypes and assumptions people have planted in their heads about us before we even pick up the phone."
That's why Weiss had no problem convincing all 300-plus employees at CACi to become the first Missouri debt collection agency to sign the "Collector's Pledge," a short, simple document that demands every consumer be treated with dignity and respect. ACA International, the leading trade association for credit and debt collection professionals, created the pledge and estimates that more than 100,000 individual debt collectors across the United States will sign on by 2010.
"The vast majority of people working in this industry are everyday, regular folks," says John Nemo, a spokesman for ACA International, which represents more than 3,500 debt collection agencies across the United States. "They're soccer moms and dads - they go to PTA meetings just like you and me. And they're tired of being lumped in with the small group of bad actors that have always been there in one form or another. I think if you look at any industry you'll always find a fringe group of unscrupulous people. There are unethical teachers. There are unethical doctors. And no matter how hard we try and no matter how many of us do it the right way, there are always going to be some people in our industry who for whatever reason don't play by the rules."
Weiss said supporting the Collector's Pledge is CACi's attempt to set the record straight with consumers in Missouri and beyond regarding how the preponderance of debt collection agencies do business.
"I realize talk is cheap, but the numbers don't lie," Weiss says, pointing out that less than 0.1 percent of the hundreds of millions of contacts between debt collectors and consumers each year result in formal complaints being filed with the Federal Trade Commission, Better Business Bureau or other entities.
"The media is always going to play up the negative, sensational behavior that happens within our industry," he says. "That's what makes news. It doesn't make news that 99.9 percent of us do our very best every day to treat consumers the right way. What about the tens of thousands of consumers we help every year? What about their credit ratings we save and the positive advice we offer? What about the more than $40 billion we annually pump back into the U.S. economy every year? Or, what about the fact that debt collectors are the last line of defense against inflation? Where are those stories? We're hoping maybe the Collector's Pledge will help begin to change the public's perception."
About CACi
CACi is a St. Louis, Mo., based collection agency providing services to local, regional and national clients since 1967. The primary focus of business is early intervention, debt collection, employee supplication and educational workshops for hospital, physician group, utility and credit card clients.
CACi Media Contact:
Roger Weiss, COO, CACi
Phone: (314)729-1133
About ACA International
ACA International, the Association of Credit and Collection Professionals, is the comprehensive, knowledge-based resource for success in the credit and collection industry. Founded in 1939, ACA brings together more than 5,500 members worldwide, including third-party collection agencies, asset buyers, attorneys, creditors and vendor affiliates. The association establishes ethical standards, produces a wide variety of products, services and publications, and articulates the value of the credit and collection industry to businesses, policymakers and consumers.
ACA Media Contact:
John Nemo
Phone:952-928-8000, ext. 124
###